A new Leeds United mural is already drawing visitors to Pudsey Market Place.
The "LUFC Legends" mural, by Farsley artist Nicolas Dixon, was unveiled at the weekend with former Leeds star and manager Eddie Gray in attendance.
The 33ft mural on the Avanta Care building is a tribute to Jack Charlton, Norman Hunter, Trevor Cherry and Peter Lorimer, who all passed away during 2020. Family members of the players were also there at the launch.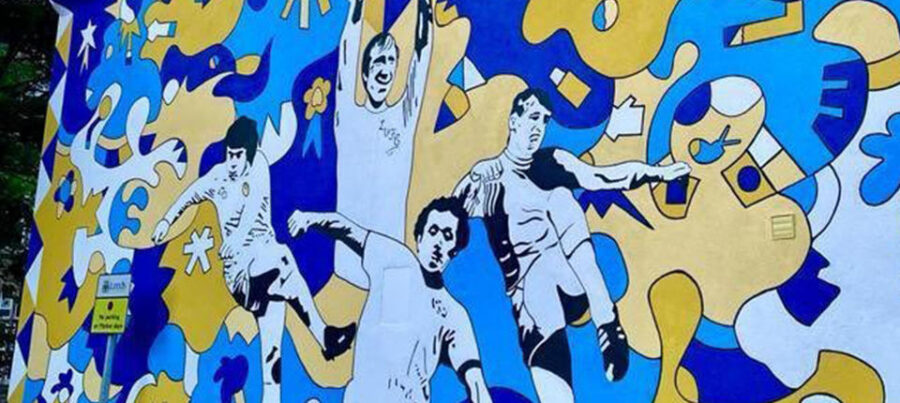 It's already drawing plenty of visitors to the market, with families and individuals coming from across the city and beyond to have their photo taken alongside the mural.
Stall holders are hoping that the new mural will attract more visitors and give an extra boost to trade. The plan is to continue the LUFC theme around the market by giving stall holders vinyl stickers for the side of their stalls to hopefully help drive more people to the market.
One Pudsey market trader said:
"It's been great – lots of people coming to have their photos taken with it from all over Yorkshire. It's put Pudsey Market in the spotlight as we're often a bit forgotten about. I'm really excited by it – the more the merrier!

"Perhaps we could have another one elsewhere celebrating Pudsey's famous cricketers like Len Hutton?"
Visitor Martin Cook had come to Pudsey from North Yorkshire to see the mural with his young son. He added:
"We fancied a day out and had seen all the publicity about it. We're both Leeds fans so thought we'd come and see it. It's brilliant, a fitting tribute to the legends.

"We've also spent some time in Pudsey Park and had a drink and a bun in a cafe. It's nice."
The mural has been funded by the Leeds United Supporters' Trust fans mural fund, the Scandinavian supporters club (LUSCOS) and Pudsey businesses Avanta Care Ltd and Baker Harding.
Leeds United Supporters' Trust said:
"The mural has been a long time coming and it has taken a lot of planning and time to get it to this stage – thanks to Nicolas' tenacity and passion. We really hope this mural, which faces Pudsey Market, will bring lots of new faces and custom to boost local trade.

"We're really pleased to have worked in partnership with our friends at LUSCOS, our Scandinavian Supporters club who have supported financially, as well as the fans mural fund, and the two local businesses Avanta Care Ltd and Baker Harding."
Anders Palm, Leeds United Supporters Club of Scandinavia (LUSCOS) added:
"We wanted to honour our latest lost legends, especially Norman and Peter who were very close to us and good friends to many Scandinavians. We are delighted to support the Leeds United Supporters' Trust in their mural project to honour these great Leeds United legends."
Farsley artist Nicolas Dixon, who also created the Bielsa the Redeemer mural in Oldfield Lane in Wortley, said:
"To have the families of all the players there and to see their reaction was something special that I cannot put into words right know.

"It's been quite emotional working on this mural, especially as I'm a lifelong Leeds fan. I'm proud to be able to combine my two passions in art and Leeds United. I'm looking forward to everyone visiting it and I hope it continues to spread some more joy around the city."
After six months of going through the planning process with Leeds City Council – the mural is in the sensitive Pudsey Conservation Area – the plans were given temporary three-year approval in April.