Campaigners fighting to create a greenway linking Pudsey to Tyersal are aiming to make two sections of the disused railway line which have been used by residents for nearly 50 years into official Public Rights of Way.
Members of the Greenside Greenway community group say the move would help give protection against any other building developments on the proposed Greenway route.
A greenway is a long piece of land, or path, where vegetation and slow travel are encouraged. The Greenside Greenway group wants to create a greenway for use by walkers, runners, cyclists, and horse riders in Pudsey.
The sections are:
Tyersal Embankment
16 acres of land between the bridleway down from the Fox and Grapes public house to Black Hey Farm. This land is currently owned by Ogden Group.

Lowtown to Mount Pleasant Road
This section of disused rail track passes Paul's pond (an old mill private fishing pond). The land is accessed by the side of Henry Kranks shop on Lowtown.
The group is asking people who may have walked, cycled or horse ridden either of the above routes contact them. They will compile evidence statements which will be submitted to Leeds City Council Public Rights of Way section, who will process the PROW (Public Right of Way) claims.

If you can help, e-mail greensidegreenway@gmail.com.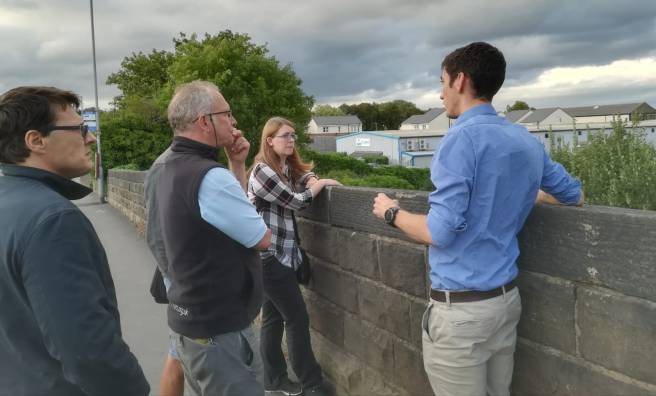 Greenway will cost between £2.5m to £4m
A feasibility report into phase one of Greenside Greenway – originally started before the first lockdown last year – has now been completed by Sustrans.
The report was funded by local community donations and contributions from Historical Railway Estates, and both Leeds and Bradford Councils.
The detailed report is 125 pages long and contains design options, land ownership searches, ecology information, and support statements from various local stakeholders. Initially campaigners have focused on phase 1, from Greenside Tunnel in Pudsey to Tyersal Lane in Bradford, incorporating the Tyersal embankment. The group wrote on their blog:
"With a predicted cost of £2.5 to £4.0 million, the 2.5km long phase 1 represents excellent value for money, compared to both similar greenway schemes, and expensive road schemes, especially when considering the health and wellbeing benefits it will bring.

"It offers both the chance to create a sustainable transport and leisure route, and to bring back the historic Greenside tunnel into public use. A further three phases of the greenway are also proposed, which would eventually link Stanningley to the Spen Valley Greenway.

"The proposed Greenside Greenway is considered to be of excellent value, and has strong local support from organisations, community groups, and politicians."
Campaigners recently met with the West Yorkshire Combined Authority and both Leeds and Bradford Councils to appraise them of the project and to request assistance in realising the greenway.
They added: "We will continue to work tirelessly to make it a reality."
Residents invited to join walk
Pudsey and Tyersal residents are being invited to attend a walk along part of the proposed route.
A free walk of phases one and two of the proposed route will be held on Saturday 6 November at 10.30am.
The walk will start from outside St Joseph's School on Mount Pleasant Road at 10.30am or join the group further on the route at 11am on Carlisle Road bridge, near the Royal public house, (walk to finish approximately 11.45am).
Contact details
Email:  greensidegreenway@gmail.com.
Twitter: @greensidegreen. Facebook: GreensideGreenway.