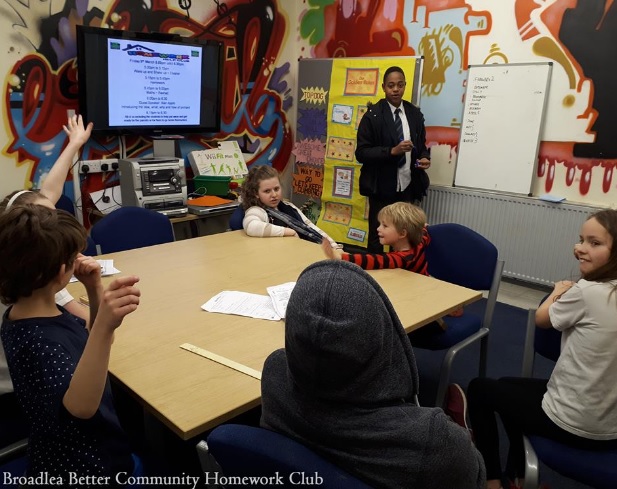 Arty youngsters on the Broadlea estate in Bramley are encouraging adults to take a pride in their community by designing posters on  speeding, littering, dog fouling and dropping gum.
Members of the Broadleas homework club spent their half-term holidays thinking about their local environment and designing the posters, which volunteers are hoping to install them on signs across the area.
The posters will be judged by local councillors when they visit Broadlea Community Centre on Friday. Local companies are being asked to donate prizes – Bramley Baths have already pledged free family swims for a week as one prize.
Volunteer Danielle Gray, 27, said:
"The kids have made a big effort, they came in every day and really threw themselves into it. We're trying to encourage them to take more of a pride in the area and pass that message on to others on the estate."
Their efforts come as residents held a community clean-up last weekend to tackle vandalism at a recently restored basketball court on the estate. The clean-up was organised by the Broadlea Better Community Tenants and Residents Association.
Any companies who can donate prizes can contact West Leeds Dispatch on news@westleedsdispatch.com and we will pass contact details on to Danielle.
______________________
While you're here…
Producing your daily dose of West Leeds Dispatch comes at a cost!
There's the hosting of the website you're reading now, running our popular e-mail newsletter, membership of independent press regulator Impress, attending summer events, paying for equipment etc etc.
We need at least £200 a month just to break even – that's money currently coming out of the pockets of dedicated volunteers who are passionate about what's happening in our communities, connecting you with local groups and organisations as well as holding decision-makers to account and championing local issues.
And all that's BEFORE we even think about paying something for people's time – for instance, our editor puts in more than 24 hours a week in his 'spare' time to ensure The Dispatch publishes daily.
To put it bluntly, after nearly four years of daily publishing, we are not sustainable!
And we need YOUR help to continue …
For the cost of less than a couple of cups of coffee you can help support local community news and continue to give our communities a voice by taking out a subscription for just £4 per month (that's just a pound a week).
As a thanks you'll get your name on a roll of honour on our website. More importantly you will be enabling us to keep bringing you the news that matters about your neighbourhood.
Achieving a bedrock of supporters will give us a firm financial footing and help us plan for the future.
Supporting us couldn't be easier…
Just follow this link.
Over to you …