A 'dynamic duo' who go out of their way to help other people in Bramley are the latest people to be thanked for their selfless work during the Covid-19 pandemic
Angela and Philip McConnell have been leading lights in the Bramley community for many years – and volunteers and workers at Bramley Community Centre say their work going the extra mile means they should be the latest recipient of a West Leeds Good Egg.
WLD recently appealed for readers to nominate and publicly thank their 'Good Eggs' – selfless people who go the extra mile for others without recognition. An email from people at Bramley Community Centre said:
"In a voluntary capacity they run a twice-weekly food bank alongside a crew of big-hearted and incredibly hard-working volunteers also local residents (the Bramley Care Bears).

"Philip and Angela never stop! They are 100% committed to making food available to anyone who needs it. During the pandemic they have collected food from supermarkets and distributors most days of the week so that there is always free food available for anyone who needs it. 

"They work tirelessly and they are incredibly generous. They don't just deeply care about others, they put that into action all the time, whether it's thinking about local children having a good Christmas by organising a Covid-safe Santa's grotto, or getting someone some new workboots.

"They also clear people's gardens, and have made use of masses of waste wood this summer to provide planters people can put on their windowsill at home to grow things in. 

"Both of them also volunteer with other organisations – so alongside all of this Philip helps Bramley Elderly Action (BEA) shopping for local older people, and Angela is a BEA volunteer befriender calling older people for a weekly chat. They've helped a lot of people, in ways they probably don't realize. How they fit it all in is beyond us, it's really amazing. 

"They will probably say 'we're a team' – and it's true that the Bramley Care Bears is brilliant team, a family as they say. But we're sure their team-mates will be happy for them to be thanked for all of the extra miles they go every week just to make sure people in Bramley are in better circumstances, today, tomorrow and the next day. 
They're really 'eggceptional' people."
Your chance to say 'thank you' to someone for making a difference in West Leeds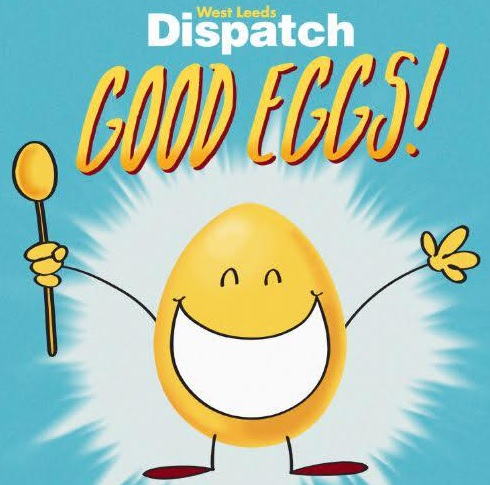 'Good Eggs' don't have to be a lifesaver – they could be someone who does the little (but important) things in life, like doing the shopping for an elderly neighbour who can't get out.
Nominees could range from someone who picks up litter in the street, works tirelessly as part of a local community group, or volunteers their time to make a difference where they live without wanting anything in return. In fact, anything that shows generosity of spirit!
Nominating someone couldn't be easier…
Simply drop us an e-mail – at news@westleedsdispatch.com – providing us with the name of the person you'd like to nominate and some reasons why you'd like to nominate them.
Please include your own telephone number so we can contact you.
Please support independent community led journalism in West Leeds…