Photos: Simon Cullingworth
Words: David Spereall & John Baron
Bramley-based photographer Simon Cullingworth has captured these photos of an eerily quiet Leeds city centre.
The normally bustling streets are virtually empty – although the photos come as Leeds City Council announced that yesterday (Wednesday) was Leeds city centre's busiest day since lockdown started.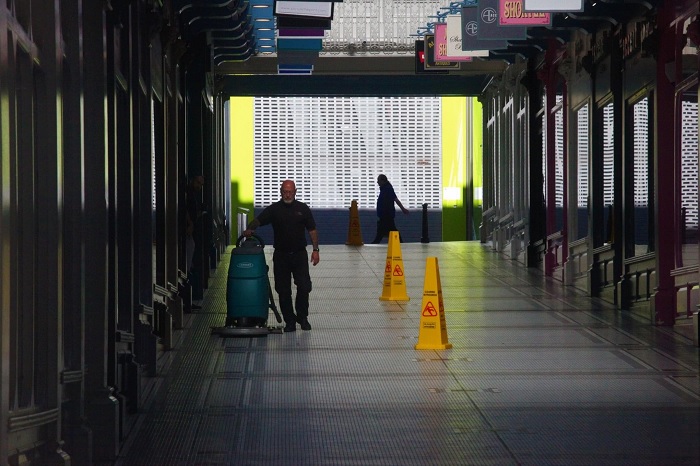 Footfall was recorded at just under 20 per cent of a normal working day pre-lockdown, as some shops and offices reopened with social distancing measures in place.
It follows the Government easing some of the restrictions on Monday, though workers are still advised to do their jobs from home if they can.
The reopened markets also enjoyed strong trading days on Monday and Tuesday as temperatures soared, Leeds City Council said.
Speaking at an online press conference, the council's director of city development, Martin Farrington said:
"Footfall was down about 95 per cent in the immediate aftermath of lockdown. That was the absolute low.

"Since then it's grown slightly over the last couple of weeks and today it's the highest it's been since lockdown started.

"I think we can expect footfall to continue to grow and then kick on again when non-essential retail opens again from June 15.

"The re-opening of Kirkgate was very successful and footfall for the open market was like a normal trading day, probably helped by the weather."
Around 11,000 businesses across the city have been helped by the Government's grant scheme during the pandemic, with £139m of funding having been distributed by the council.
Despite the UK-wide recession that's emerged from the crisis, council chief executive Tom Riordan said Leeds was well placed to deal with the economic downturn.
He pointed to the West Yorkshire devolution deal, Channel 4's impending arrival and the possibility of Leeds United being promoted to the Premier League as reasons to be optimistic. He said:
"If you add those things into the mix of where we were before, the city was moving into an incredibly strong position.

"Just before we came into the crisis the Leeds economy was doing as well as it had for many years. Despite the challenges we've got the fundamentals of what we do haven't changed.

"Leeds will still be a place people want to come to.

"We have massive challenges facing us today but that ambition that the city's got will be at the forefront of our work going forward."