A former eyesore in the centre of Bramley which housed the former Lord Cardigan pub has been transformed into council housing.
The Cardigan Green development, which comprises eight two-bedroom homes, has now been finished by Wortley-based developer RDF Building Services Ltd and are now in the process of being let.
Lewis Mitchell, his fiancée Amy Weatherill and their two-year-old son Colby, are among the first new tenants.
Mr Mitchell said:
"It's nice and warm, spacious with big rooms and it's really nice to have a garden as the place we were in before didn't have one. Colby loves being out in the garden, being able to run around.

"It's good to be near family too, that's what we wanted. We're settled in now and it's worked out really well."
The council says all of the properties have been built to the best possible energy-efficiency and quality design standards, with triple-glazing and high levels of insulation installed to help keep fuel bills low and limit the impact on the environment.
Councillor Caroline Gruen, (Labour, Bramley and Stanningley), said:
"This is the moment we have been anticipating for some time. The site has laid derelict and unused, so it is great to be able to bring not only housing, but brand new affordable housing built at the site. I wish the tenants all the best in their new homes."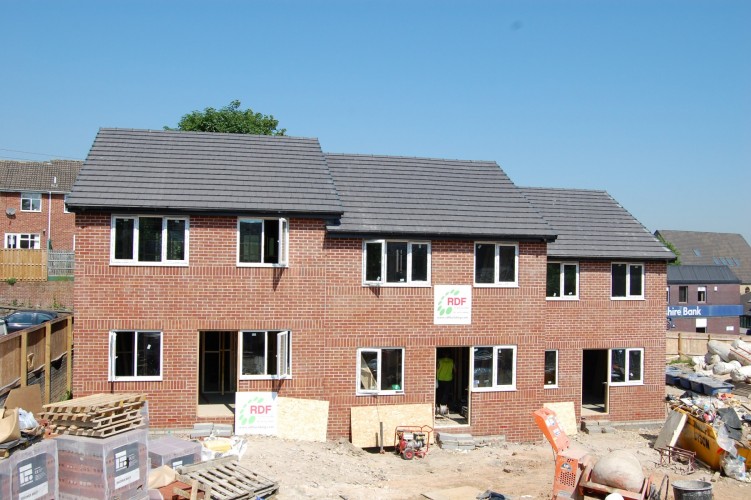 Leeds City Council executive member for regeneration, transport and planning, Cllr Richard Lewis (Lab, Pudsey), said:
"A development like Cardigan Green perfectly demonstrates what the housing growth scheme is all about, taking a former derelict brownfield site and transforming it into high-quality new homes to offer attractive affordable housing in our communities.
"Working with local developers as well as building new homes ourselves, we want to see many more such developments completed across Leeds in the coming months and years."
RDF Building Services Ltd managing director Michael Brearey said:
"Everyone at RDF is extremely proud to have been involved with the scheme that was developed and completed in partnership with Leeds City Council. We were assisted and supported by Adrian Dean, principal regeneration officer for Leeds City Council, who exceeded his responsibilities to ensure that the tenants were able to get the best home possible."
The Lord Cardigan was demolished in 2012 as part of the council's derelict and nuisance programme. The site had been subject to anti-social behaviour.