A small group of mums and professionals who collect baby clothes, nappies, toys and equipment and pass them on to cash-strapped families have launched an appeal.
Leeds Baby Bank helps families in need across the city – and is appealing for help to fund much-needed storage facilities they're about to move into on the St Catherine's Estate in Bramley.
Co-founder Lynsey Jayes, from Bramley, explains how you can help…
Shout out to all our unpaid volunteers who give up their time to sort, collect, deliver& admin whilst working long hours in their own jobs ❤ pic.twitter.com/ViDYI4APrT

— LeedsBabyBank (@leedsbabybank) 11 March 2017
We support people with children in the age group 0-4 and nearing the end of pregnancy by providing items requested on the referral by agencies already working closely with the family.
This could be social work, midwifery, health visiting teams, or domestic violence or immigration support workers, the list is endless, we have even had referrals from citizens advice.
We are now in the process of moving out of a donated space we have outgrown and into our new premises in the St Catherine's complex in Bramley, which is owned by the owner of Monster Kidz, who has given us a reduced rate for a good-size space that will accommodate us better and make it easier for us to sort and store donations.

We all run the baby bank on a voluntary basis, we do not take any expenses or wages, we all have jobs, uni and families. We put every spare minute into the running of Babybank, we will have to fund the premises ourselves if we don't raise the rent.
We have an event coming up on Mothers day at the Village hotel in Morley in an attempt to raise funds, we also have our Gofundme and paypal pages for donations.
We are looking to team up with Monster Kidz to do a school uniform swap shop over the summer holidays as an extension of Baby Bank, which will run at the Bramley venue.
An example of our support would be a referral from a midwife working with a refugee family who have no access to welfare and has due a baby in the near future.
We would provide everything from a Moses basket, pram, toiletries, nappies, sanitary products for mum, wipes, blankets, clothes, breastfed pads, creams, sterilisers, breastfed pumps or formula and bottles depending how the client is feeding.
We always aim to support breastfeeding, but we must also be aware that if mum can't afford to eat properly baby might not get a good quality milk and there are a host of other reasons why mum might choose to bottle feed.
We would support either choice and provide the items required to support that. Other examples include, cuts to benefits, fleeing violence, debts, relationship breakdowns and zero-hour contracts.
We have drop off points across Leeds – including Kiddi Club in Lower Wortley Road and Farsley/Calverley Children's Centre in Cote Lane –  which we then move to storage to sort, store and put out referrals.
Full info is available on our website, along with links to Gofundme and all drop-off locations.
There remains a false idea that everyone has access to benefits, and human rights wouldn't leave anyone with young children penniless, but this simply isn't true.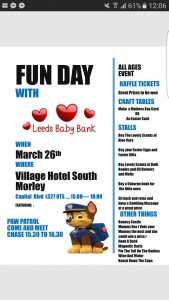 Fundraising event
We are having a fund raising event on the 26th March at the  Village Hotel, South Morley, 3pm to 6pm.
We have stalls selling body products from jewellery to Easter gifts and much more. We have craft tables for the children to make Mothers day cards and Easter cards, plus a bouncy castle
There will be a raffle and tombola,  with prizes from Malmaison to tea for two with Champagne –  a variety of prizes donated from amazing companies.
We have a visit from Chase from Paw Patrol for the little ones. The funds raised are going towards the cost of our new storage at Monster Kidz in Bramley.