A lifeline foodbank in Bramley has been forced to close its doors for at least two months due to a lack of volunteer drivers.
Leeds North and West Foodbank runs a food distribution centre on Wednesdays at Trinity Methodist Church, off Town Street.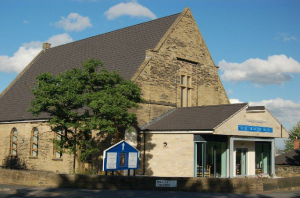 But bosses at the Trussell Trust-run foodbank have had to suspend the facilities due to a lack of volunteer drivers.
A post from the foodbank on social media said that volunteers were the foodbank's 'lifeblood'. It added:
"Due to not being able to recruit drivers for Wednesday afternoons we have taken the difficult decision to close our Bramley distribution centre for the next two months, after which time we will reassess the situation.

"We are looking for drivers who can collect donations from around the city in our Foodbank van, most urgently on Wednesdays."
If you would like to volunteer or know someone that could help please follow this link for more information.
Alternative collection points to Bramley include Armley, Lower Wortley and Pudsey. A full list can be found here.
A range of volunteers are also needed at the new Hawksworth Wood food distribution centre.
Leeds North and West Foodbank gave 11,710 three-day emergency food supplies to people in crisis between April 2018 and March 2019.
___________
While you're here…
Producing your daily dose of West Leeds Dispatch comes at a cost!
There's the hosting of the website you're reading now, running our popular e-mail newsletter, membership of independent press regulator Impress, attending summer events, paying for equipment etc etc.
We need at least £200 a month just to break even – that's money currently coming out of the pockets of dedicated volunteers who are passionate about what's happening in our communities, connecting you with local groups and organisations as well as holding decision-makers to account and championing local issues.
And all that's BEFORE we even think about paying something for people's time – for instance, our editor puts in more than 24 hours a week in his 'spare' time to ensure The Dispatch publishes daily.
To put it bluntly, after nearly four years of daily publishing, we are not sustainable!
And we need YOUR help to continue …
For the cost of less than a couple of cups of coffee you can help support local community news and continue to give our communities a voice by taking out a subscription for just £4 per month (that's just a pound a week).
As a thanks you'll get your name on a roll of honour on our website. More importantly you will be enabling us to keep bringing you the news that matters about your neighbourhood.
Achieving a bedrock of supporters will give us a firm financial footing and help us plan for the future.
Supporting us couldn't be easier…
Just follow this link.
or set up a standing order with your bank:
Contact us on Paywestleedsdispatch@gmail.com if you'd like to do this.
Over to you …