Words: Roland Cross & John Baron
Images: Simon Cullingworth
"We want our seating back!" that was the message from a friendly 'flash mob' of Bramley residents who brought their own seats to Bramley Shopping Centre this morning.
The residents were making their point after at least 16 public benches were stripped from the centre by its new owners LCP Properties two weeks ago, sparking widespread concern in the community.
The move, which LCP said was to reduce congestion on the footpaths, saw all benches at the centre removed.
Around 15 people staged the friendly socially distanced event by bringing portable chairs, buying drinks and food and sitting in the spaces where the benches had been. They argue the decision has deprived shoppers and many others of the chance to rest and socialise. 
Roger Cliff, a well-known figure in the community and secretary of Bramley History Society, said:
"One word. Crazy. Lots of older people used the benches, Some people are lonely and the benches offered a place to sit down and get chatting.

"Our local councillors Julie Heselwood, Kevin Ritchie and Caroline Gruen and Rachel Reeves MP are very supportive of reinstating benches and the centre management should listen."
Sandra Ray, 63, of Rodley, has breathing problems
"It's disgraceful. If I am coming down here and I have an asthma attack I have nowhere to sit and it puts me off coming. They should think about the community and people who shop here."
A manager at one of the shops said trade had been impacted since the seats had been removed. She said: "It has been like a different centre this past week, it's been noticeably quieter. People have missed the benches, particularly the older ones. They come for a rest, a chat and a shop. This is the centre of a community, not just a shopping parade."
Bramley resident Tamsin Constable had come to the centre to raise awareness of the need for seating at one of the largest retail hubs in West Leeds. Tamsin said:
"The benches offered a mobility aid for everyone. Benches enable people to access Bramley Shopping Centre and without them some are excluded because they need a place to rest before carrying heavy bags of shopping home."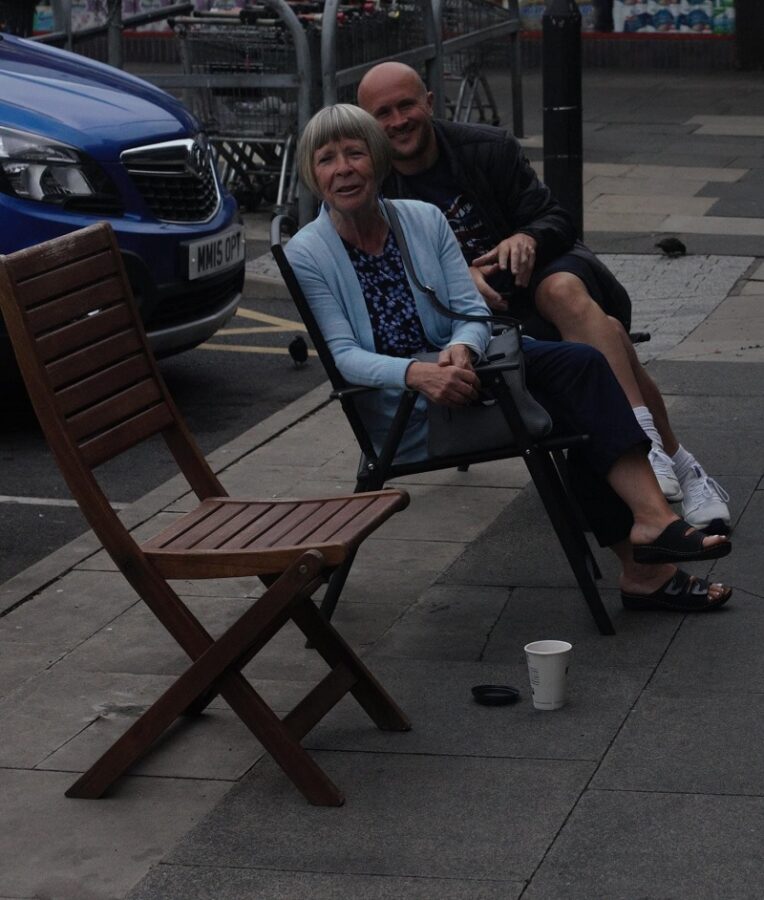 Bramley local Jane Armstrong also felt strongly about the issue. She added:
"I think its mean-spirited of the owners because Bramley Shopping Centre is a community centre. It's here to serve the community and lots of people used and enjoyed the benches when they were here. For some people, sitting down and chatting to neighbours was the only time they get to socialise with people during lockdown."
Her son Tom Armstrong, who also lives in Bramley, felt the same way. He added:
"This is the centre of our community. The removal of benches means we are not enabling older people and people with mobility issues to come here. They should be reinstated."
Shoppers Brenda Roberts and her husband Alwyn were pleased to support the event. Brenda said:
"My husband has dementia and is 83. He used to sit on the benches whilst I did the shopping in Tescos. Now, I can't browse whilst shopping and I'm very annoyed that this will stop people coming to Bramley Shopping Centre."
The purpose of the event is to try to engage with the management to persuade them to review the decision. One of the organisers told WLD:
"We come to wish the management well and invite them to come and talk to our brilliant community, get to know us and understand why the benches matter. We would welcome them  and would welcome a conversation. We'll be here every Saturday morning at 10am – 11am. If anyone wants to join us, just bring a chair."
John Whiteley, 75, has lived in Bramley for more than 50 years. He said there is a lot of older people in Bramley and added: "They need the seating and it needs to be put back, it's putting people off coming."
LCP, which manages Bramley Shopping Centre, told WLD two weeks ago that the benches had bee removed because they were causing an obstruction on the pathways and added:
"Any decisions made are done so with the best interests of our tenants and shoppers and we will consider if new outdoor seating arrangements can be made once we've had chance to assess the impact of the change.

"However, there is external seating outside Costa Coffee and retailers can request the same by applying to the landlord for its consideration." 
WLD will be contacting LCP for further comment.
LCP bought Bramley Shopping Centre on behalf of Sheet Anchor Investments, one of the LCP Group of managed companies. They have acquired £80m of shopping centres in recent months, including Trafford, Daventry, Sheffield and Kent.