The Bramley vicar who found tragic newborn 'baby Peter' outside his vicarage has made an emotional plea to the baby's mum.
One year on after the baby boy – named Peter by local residents – was found outside St Peter's Church vicarage in Hough Lane, The Rev Paul Crabb is leading appeals for the infant's mother to come forward.
Rev Crabb said:
"To the mother of baby Peter: The people of Bramley have not forgotten your baby or you.

"We still feel that you both belong to us, and, given the opportunity we would offer you the best care and support we can. We long for the time when we can lay your baby to rest.

"We remember you often in our thoughts, in our prayers and, sometimes, in our tears."
Churchgoer Peter Stockdale has also written a prayer for the people of Bramley.
No one can really know, that poor
mother's state of mind,
so before anyone of us judge, we
should try to be kind.
We are all capable of being the
judge, when we don't know,
whether a mental illness has struck,
that does not show.
Tonight we sit in our homes, safe
comfortable and warm,
let's pray for a human being, that's
suffering an emotional storm.
The poor baby is in god's hands,
many hearts are broken,
we must choose wisely in our kind
prayers, the words now spoken.
Please god help this woman, to find
the help she desperately needs,
and help us all to understand, what
has happened in Bramley, Leeds.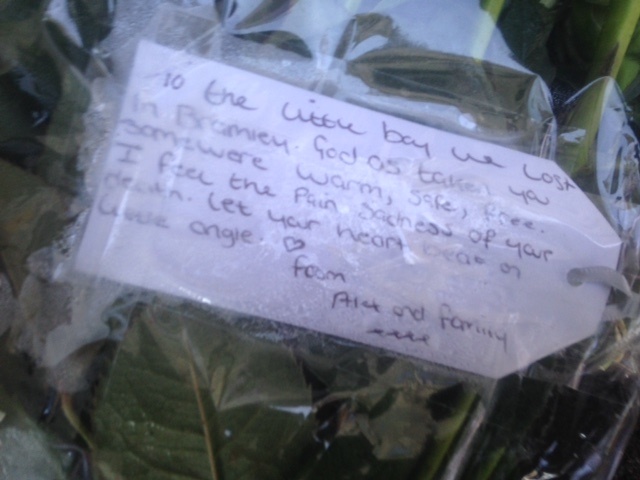 Police have also reached out to the mother on the anniversary of baby Peter being found.
Det Ch Insp Nicola Bryar, from West Yorkshire Police, said the force's only concern was her welfare:
"You left your baby boy at the vicarage – you chose somewhere you knew he would be found, and found by someone who would make sure he was looked after and safe. That was important to you and you clearly cared about him.

"He can't be laid to rest as things stand, and that's something I want you as his mother to be able to lead the arrangements for and to have your wishes respected. I want you to have an opportunity to say goodbye properly."
A community appeal raised more than £2,000 for a headstone to bury Baby Peter.