Words & Photos: Damon Sugden
Saturday saw the welcome return of Farsley's Aston Martin Day, celebrating the close connection of the village to the incredible engineering heritage of one of our most prestigious car manufacturers.
Members of the Aston Martin Owners Club paraded their cars from Newlands, down Town Street to the Weavers Yard at Sunny Bank Mills, where they were parked up and displayed.
Spectators were asked to vote for the "people's choice of favourite Aston" and place this in to a voting box.
What a great family day out looking at high end touring cars this was, from one of the earliest examples of the Aston Martin marque to the very latest in the stable. Young and old enjoyed looking at the cars, and experienced the thrill of sitting inside the Astons and chatting to the owners.
Check out a slideshow of photos below:
One of the owners, Paul Martin, had brought an incredible car with an incredible story. He told WLD:
"It was the DB4 that came out in 1958 that set me on my way to Aston Martins in the first place, they were £4,000 (brand new) and I dribbled… I couldn't afford any post-war models so I went for this: the Aston Martin one-and-a-half Litre MKII drop-head (registered January 1934) first of only seven examples, this one built as a prototype for a director at Aston Martin."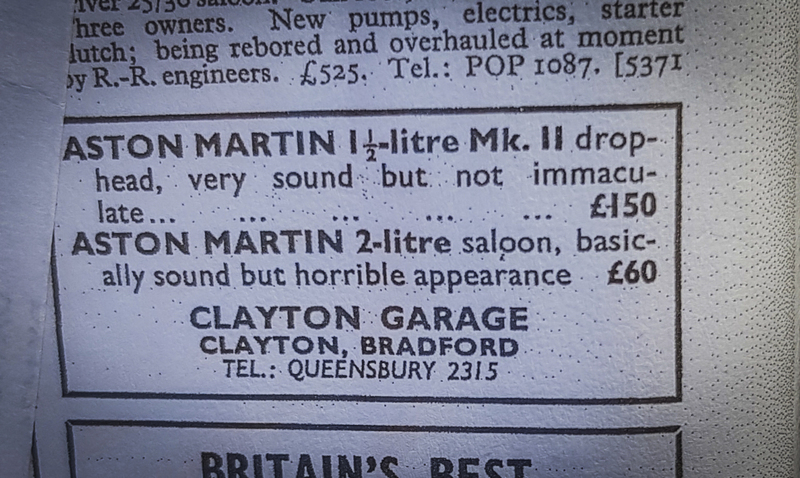 Bought from Clayton Garage near Queensbury in 1963 for only £150 it was Mr Martin's first ever car, he still has the newspaper classified advert for it:
"I was 24, it was cheap when I bought it; people said what you buy that for its an old car? At the time this was a third of the price of the Mini."
A bystander added: "Most of the Minis from that era have dissolved by now."
A similar example of this model sold at Bonhams in 2015 for £178,333.
Everyone loved the MKII and the owner was happy to let people sit in the car and be captivated by its glory. Mr Martin suggested to one father whose son was happily playing in the drivers seat: "When he's older we need him to be looking after these things."
I was invited to take a seat in a mint condition blue DB7 and have a chat with its owner Robert Burrell. He added:
"We've been coming here for six years, its great fun with the Police and car parade (briefly) taking over Farsley."
The visiting public voted the 'people's choice' as the white 2018 Aston Martin Vanquish owned by Tom Whittaker, receiving a superb cake supplied by Steven Newbatt from the Candied Peel Cake Co.
Honourable mentions to all the owners and vehicles, especially the 'James Bond' Aston with its Q division optional extras: Bullet proof shield, smokescreen, rockets and ejector seat ably demonstrated by Grommet the dog.
WLD spoke to event organiser John Procter about the event. He said:
"It's been absolutely fantastic, the reaction and the number of people coming into Farsley – that's what we're all about trying to get people into the village.

"That's the thing as far as I'm concerned, and the West Leeds Dispatch and others helping to promote it, I'm really pleased.

"We'd like to thank the Rotary Club of Calverley for helping, the Aston Martin Owners Club, Steve for supplying and gifting the cake, our local residents and everyone that's chipped in and also visited on the day."
This year's event was held in memory of Honorary Alderman and event co founder Rod Wood, who passed away in June this year.
Hopefully this fantastic event can continue to bring people into and enjoy Farsley for many more years to come.