Family and friends are rallying around seriously ill six-year-old Anya Morris – but are now calling on YOUR help.
Whingate Primary School pupil Anya was recently diagnosed as having a malignant brain tumour, known as a chordoma. Anya has twice undergone gruelling surgery, the most recently last week.
The proton therapy to hopefully cure her of this is only available in America where dad Graham, his wife Karen, Anya and siblings Erin and Oscar will have to spend three to four months.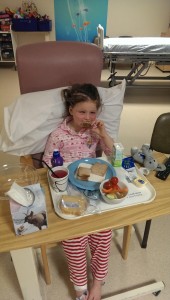 Although flights and accommodation for Anya and her parents are funded by the NHS, the family faces having to pay substantial living costs that they will have to try raise from somewhere – as well as the cost of bringing their other two children.
Friends of the family have already rallied round – and one friend, Samantha Stewart, has set up a JustGiving page for Anya, which has so far raised £2,000 – but more is needed.
Samantha said:
"The type of cancer Anya has is not receptive to chemotherapy so it's important the family is able to go over together to America so Anya can get the treatment she needs. The money will help the family stay together while Anya undergoes the treatment. They'll be over there for nine weeks, so it's important they're all together during that time.

"I set up the JustGiving page as I wanted to do something to help them. We set the £2,000 target as we thought it would be an amount of money that's achieveable, but they will need more. Anything anyone can donate will be appreciated."
Another friend, Stephen Owen, has organised a charity black tie dinner featuring rugby stars Jamie Peacock and Sam Tomkins.
Stephen said:
"In order to try help with this I decided to organise a black tie dinner using contacts and friends I have made through my job working in Sky Sports Rugby League.

"I thought a unique event to be MC'd by Sky Sports presenter Brian Carney, featuring special guest speakers Jamie Peacock MBE – the most decorated player in Super League history; and Sam Tomkins – the man holding the record transfer fee in Rugby League would be a good way to do this. The guest speakers will be interspersed with a three-course meal that will have followed a welcome drink on arrival."
Several other sports stars will also be in attendance and there will also be a performance from a top comedian, as well as a raffle and auction where some fantastic prizes will be up for grabs.
The event will be held at the South Leeds stadium on January 29. Tickets are still available and can be bought for £35 per person or £350 for a table of 10. Check out Anya's Facebook page for more details.
Graham Morris, Anya's dad, he said:
"We've been taken aback regarding people's generosity and are so very grateful for all the support."
The Morrisses are due to leave for America sometime next month.