Armley Town Street is back in the headlines for all the wrong reasons – and causing a storm among Armleyites on social media.
Two men were photographed on Town Street last Tuesday by resident David Mullan, lying on the pavement in a drunken stupor. A similar photo of a man outside the shops at the bottom of Tong Road, Wortley, was also circulated at the weekend. The Dispatch won't be reproducing those photographs here.
The images have sparked everything from anger and talks of silent protests about Armley's demise through to organising a more positive singing flash mob and dance event with local residents. Last week there were fears surrounding caretaker positions being cut at the Burnsall flats.
The YEP rightly  says Armley deserves better and asks why the authorities haven't put a stop to these problems. Compare Armley with the city centre and you're left with the view of Leeds as a city with great inequality – the difference between the haves and have nots seems to have never been greater.
A high-profile effort to improve Armley's fortunes has been made over the past couple of years – but what impact is it having?
Have things really improved? Here, we look at the positions of the different players in this issue, from the street drinkers themselves through to Armley residents, local groups, police and the politicians.
Armley residents frustrated
Residents debated the photographs at great length. Initially there was a feeling of great anger that the problems.
Have things improved in terms of anti-social behaviour? Many would argue not and spoke at length about their fears about going on Town Street because of the drinkers – police themselves acknowledge an increase in anti-social behaviour in the past couple of months, despite a range of banning orders aimed at street drinkers.
One woman summed up the frustrations when she said:
"Attended all the [community] meetings, spokem to Head of Leeds City Council, Police, Antisocial Team – nobody seems to be able to solve Armley's problems. Think we need public demonstration with big placards that say SHAME ON THE LOCAL AUTHORITIES."
One resident who lives in Burnsall Grange said:
"The area has gone downhill for the past three years. I have lived in this block for over 20 years, I am currently looking to move. Rough sleepers on the stairwells, cleaners finding needles. I could go on. "
Some attacked a perceived lack of effective action by the politicians representing them.
A lengthy and heated debate (which has since been deleted) on the Armley Good Stuff Facebook page saw many conclude that enforcement plus other options should be used to deal with the causes not just the symptoms of this problem.
Some recognised the two men photographed as having been involved in volunteering schemes at  Armley Junktion café.
Many people were heartbroken as well as frustrated/annoyed about their behaviour. One woman said:
"I don't like seeing these men, I'm intimidated by them. My children shouldn't have to see men so intoxicated they've passed out on the street. But I'm also aware that these men didn't set out to have a life like this, there are reasons why they are what they are today and they need help. This is what social issues and poverty do – they shouldn't have our contempt."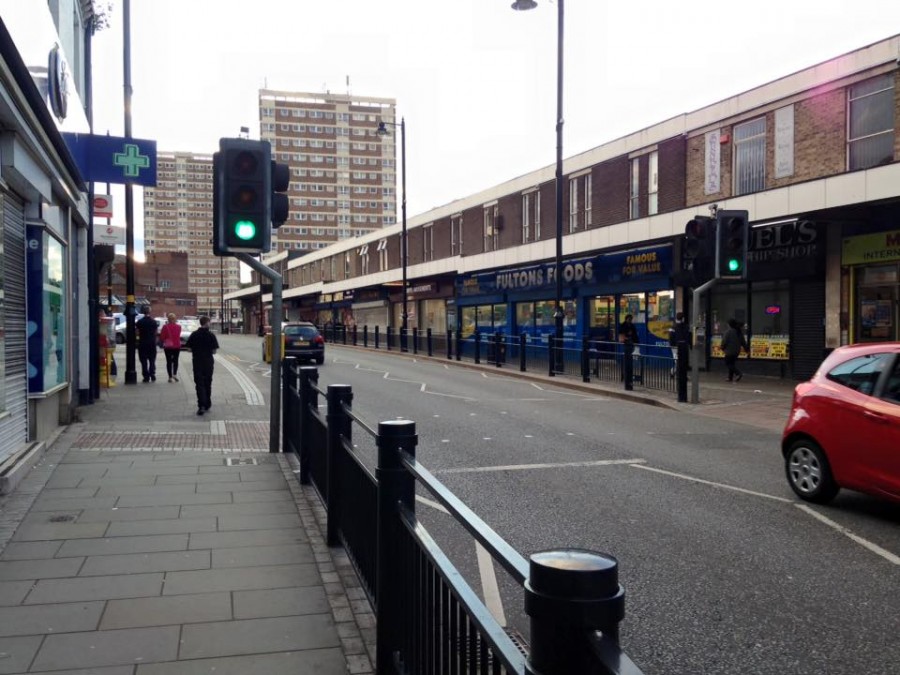 Positive developments in Armley
In recent years a group called AllTogether Armley has helped set up and run the revived Armley Festival, sparked a Keep Army Tidy Campaign, organised new planters and a community mural on Town Street, run an art and craft fair, worked with Swallow Hill Community Academy and with youngsters at the National Citizens Service. They've also organised an Armley book swap, set up a traders' forum, run events offering energy efficiency advice – and run a Victorian Christmas market at the Armley Christmas lights switch-on.
Other groups such as Armley Good Stuff have been the catalyst for a variety of get-togethers and groups such as a singing group, a dog walking group and lots more. A new Friends of Gotts Park and Armley Park group is aiming to improve the parks and give them a new lease of life, despite problems there.
These groups have started in the past couple of years and are actively encouraging a more
Last year, new licensing laws to make it harder for new off licences to be approved in Armley were given the go ahead by Leeds City Council. A good move as the availability of cheap booze in the area is a major problem, but you have to ask what took so long, especially when Chapel Allerton has had a Cumulative Impact Policy on bars and restaurants since 2006 and takeaways since 2010…
Street drinking is also banned on Armley Town Street.
Positive things are happening – but by themselves won't change the social issues facing Armley.
Politicians: Rachel Reeves MP on 'zero tolerance'
Leeds West MP Rachel Reeves has said there should be a 'zero tolerance' policy towards this kind of behaviour.
She said:
"There are lots of positives about Armley Town Street but they are let down and we are let down in the community by a few individuals who think this behaviour – drinking in the street and drinking so much they pass out – is acceptable and it's not. I'm determined we take back Armley Town Street for people so they can enjoy their local community.

"I regularly see this kind of behaviour for myself and, only a few weeks ago, had to call an ambulance for someone who was unresponsive.

"There must be a zero-tolerance approach to this behaviour and I support the police in issuing orders to stop them returning to Town Street and ultimately seek help."
Local councillors Alison Lowe, James McKenna and Alice Smart also back Ms Reeves' calls for zero tolerance on street drinkers.
But as one man on Twitter put it:
"What about a zero tolerance policy on poverty?"
Police 'clampdown'
Police have said there is 'ongoing work' that neighbourhood officers are doing to address issues of street drinking and anti-social behaviour in the area.  Sergeant Chris Craven, of the Inner West Neighbourhood Policing Team, said in a statement:
"We are very much aware of the issues that a minority of individuals have been causing in the area and the impact this is having on the community.

"We have seen an increase in anti-social behaviour in Town Street in the last two months and we are currently stepping up our work in response to it.

"We will be making use of enforcement notices that clearly set out what will not be tolerated in terms of anti-social behaviour and substance misuse. These also explain that prolific offenders will be referred into support services to address the underlying issues.

"If the notices are not complied with then dispersal orders will be used that ban people from the area for 48 hours. Any breach of these is an arrestable offence.

"Beyond these measures, we will also be working with Leeds Anti-Social Behaviour Team to compile detailed evidence that can support applications for Criminal Behaviour Orders than can be used to ban people from the area and from behaving unacceptably in public. These also carry a power of arrest.

"We recognise that enforcement action alone cannot address the issues and we will continue to work closely alongside our partner agencies and the third sector to find longer-term solutions.

"We remain firmly committed to doing everything we can alongside our partner agencies to improve the situation."
If you have any information in relation to anti social behaviour, please contact the police on the following: e-mail innerwest@westyorkshire.pnn.police.uk or telephone 101 / 0113 2414 999.
Street drinkers
The street drinkers themselves don't number that many, police say possibly half a dozen or so are what you might call hard core.
Part of the problem is that there's a hard core of street drinkers who have refused help to sort their problems and who refuse to engage with outreach workers sent to help them. Resources like drug and drink rehabilitation service Forward Leeds are on the doorstep for those who choose to use it. Some residents have argued that Forward Leeds's presence has brought addicts and extra problems to Armley, something the organisation refutes.
Stress and the frustration of dealing with life, financial problems, relationship problems, and a host of other issues, cause some people to turn to alcohol to alleviate the stress. Some of these men have had to deal with quite traumatic issues in their lives.
Some have gotten in with the wrong crowds and made mistakes.
There's no easy answer to resolving Armley's social problems. And whatever the way forward is, it's clear there are no quick fixes. Action is now starting to take place but arguably the problems had been allowed gestate for far too long. Armley is now paying the price for that inaction.