Bizarre vintage vacuums and inspiring images from the ballot box will feature in an eye-opening talk in Kirkstall about the changing lives of women over the past 150 years.
Taking place at Abbey House Museum, the event will explore the huge variety of different roles women have played in fields including politics, education, work and in the home from Victorian Britain up until today.
Through a series of historic images of real women from Leeds taken from the Leeds Museums and Galleries archive, the fascinating study day will look at how opportunities for women have evolved in that time and the many battles that have been fought for women's rights.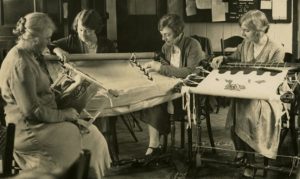 And visitors will also have the opportunity to get an up close look at weird and wonderful labour-saving devices that were once marketed as a surefire way to make women's lives easier, including antique vacuum cleaners.
Nicola Pullan, Leeds Museums and Galleries assistant curator of social history, said:
"The last 150 years have seen some of the biggest and most expansive changes in the lives of women in virtually every field imaginable.

"During this study day we hope to give an insight into just some of the perceptions and challenges women have overcome in that time as well celebrating the progress that has been made."
The study day takes place at Abbey House on March 28 from 11am until 3pm. Tickets cost £11, which includes lunch, and places are limited, so booking – here – is essential.
_________________
While you're here…
Producing your daily dose of West Leeds Dispatch comes at a cost!
There's the hosting of the website you're reading now, running our popular e-mail newsletter, membership of independent press regulator Impress, attending summer events, paying for equipment etc etc.
We need at least £200 a month just to break even – that's money currently coming out of the pockets of dedicated volunteers who are passionate about what's happening in our communities, connecting you with local groups and organisations as well as holding decision-makers to account and championing local issues.
And all that's BEFORE we even think about paying something for people's time – for instance, our editor puts in more than 24 hours a week in his 'spare' time to ensure The Dispatch publishes daily.
To put it bluntly, after nearly four years of daily publishing, we are not sustainable!
And we need YOUR help to continue …
For the cost of less than a couple of cups of coffee you can help support local community news and continue to give our communities a voice by taking out a subscription for just £4 per month (that's just a pound a week).
As a thanks you'll get your name on a roll of honour on our website. More importantly you will be enabling us to keep bringing you the news that matters about your neighbourhood.
Achieving a bedrock of supporters will give us a firm financial footing and help us plan for the future.
Supporting us couldn't be easier…
Just follow this link.
or set up a standing order with your bank:
Contact us on Paywestleedsdispatch@gmail.com if you'd like to do this.
Over to you …