How can you carry out your council work when you are in lockdown? Caroline Gruen, Labour councillor for Bramley and Stanningley, answers this question and discusses the future of historic Bramley Baths with community reporter Jo Fiddes.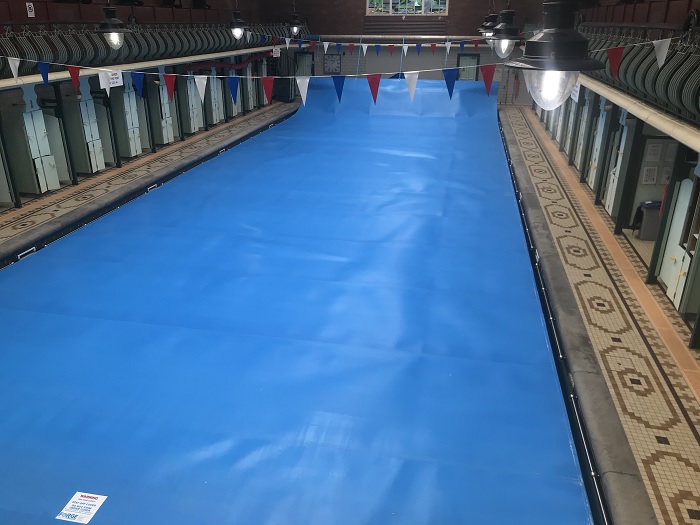 The day begins…
This is Caroline's eighth year as a councillor, and it's certainly the most unusual one so far.
Although she has always been interested in politics, for most of her working life she has held politically restricted roles in education so was unable to become politically active until after she retired.
"I initially stood to be a councillor in Weetwood, but despite my best efforts I didn't win that election. But every cloud has a silver lining, and it meant I had the amazing good fortune to be selected to stand in Bramley and Stanningley. It is such an honour. It couldn't be a nicer place to work."
Caroline is currently recovering from an operation on her spine, so the day begins with her physio and exercise. Before her operation, she was unable to walk more than two or three steps with a walking stick, and stairs were impossible.
"Lockdown has actually really helped with my recovery because I have been able to devote time to getting better. I exercise daily and am now able to walk for an hour and a half, albeit slowly.

"I can do stairs again too! My rehabilitation has been quicker because I have been able to commit to this daily. I think if it had been "business as usual" it would have taken me much longer, so for me this has been a real positive of lockdown."
While no two days are the same, inevitably meetings (now conducted via Skype or Zoom) still feature heavily.
The statutory business of the council has continued, and Caroline has been "virtually" attending scrutiny boards and planning panel meetings throughout the lockdown period.
She feels that having these meetings virtually makes things harder and more cumbersome, but all the councillors are working through it to find solutions.
One thing that has taken up lots of Caroline's time – and caused her sleepless nights – is her role as a board member of community led Bramley Baths. She said:
"This has been an incredibly worrying time. We have been having daily finance meetings, and at one point it really looked to be touch and go as to whether we would be able to re-open at all.

"Things look a little brighter now – we have secured grants and loans, and the Friends of Bramley Baths scheme has helped. Still, we are not out of the woods yet, and so I would encourage everyone to become a Friend of Bramley Baths so we don't lose this fabulous community asset."
The day unfolds….
Caroline is also a Trustee of the Leeds Cares Charity, and she spends some time helping with their fundraising efforts. Because the council aren't meeting, the Civic Hall car park has been empty…but it has been put to good use by Leeds Cares.
"We have been able to provide healthy, home cooked meals for staff coming off duty at the LGI, from the back of a van parked in the Civic Hall car park. It has been hugely gratifying to be able to do this, to show our support for these front line workers, and they have really appreciated it at the end of a long and difficult shift."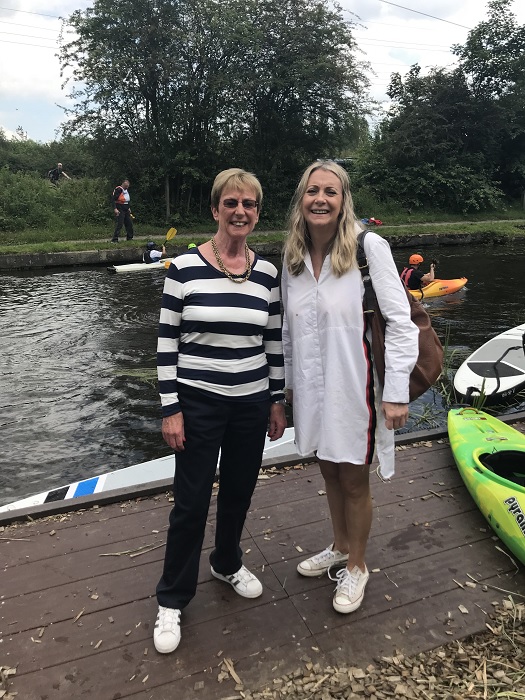 Caroline is also a Governor at both Hollybush Primary School and at Leeds West Academy, so it has been a big responsibility working with school leaders to ensure children of key workers and vulnerable children were in school – and more recently the extensive planning involved in the schools' opening more widely. She says:
"Both schools have pulled out all the stops. We are blessed to have fabulous staff and especially head teachers, who have been working incredibly hard. I have been proud to play my part."
The day ends…
Meetings still take place in the evenings, including a weekly Bramley Baths board meeting bringing everyone up to date with the current position.
When the meetings are done and the laptop is closed, Caroline finds time on reflect on the day's events and lockdown in general.
"The cancellation of the two Bands in the Park events and also the Bramley Festival have made me really sad, but I remain optimistic.

"This crisis has really brought out the best in some people and I have seen some wonderful and generous acts of kindness – delivering food parcels, befriending lonely older people, children giving away their books.

"It's shown what an amazing community Bramley and Stanningley is. And that's what I miss the most – being in the heart of it all: visiting sports clubs and residents' meetings. I'll be glad to get back to that."
If you need any help with Bramley & Stanningley issues, you can contact Caroline by e-mail – caroline.gruen@leeds.gov.uk.
More of Jo Fiddes' regular 'A day in the life' features can be read here.