Words: Chris Young, local democracy reporter
Plans to develop a mass transit system linking West Yorkshire's cities and towns have taken a giant step forward after the Government announced the region will get £830 million to spend on transport.
Last month the West Yorkshire Combined Authority submitted its £920 million bid for a five-year City Region Sustainable Transport Settlement to the government.
And today Chancellor Rishi Sunak has announced that he's giving West Yorkshire £830 million to develop its integrated transport system.
The Authority is waiting to hear the specific details of the funding, but hopes that it can start developing its plans for a mass transit system, which is likely to be rail-based, and progress plans to massively improve the bus network with bus priority and more zero-emission electric buses plus more frequent and reliable services.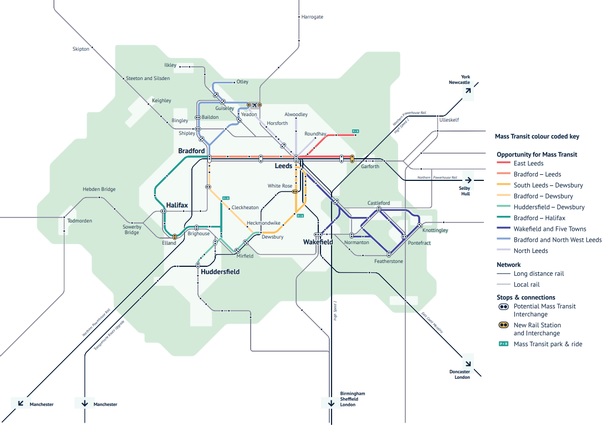 Details of the mass transit system were announced earlier this year.
Although routes have not been finalised, it would likely include a mass transit interchange in Bradford city centre – with a line linking the city to Leeds, via Pudsey, Bramley and Armley/Wortley.
The full network could eventually include nine lines linking Leeds, Huddersfield, Wakefield, Halifax, Bradford and other places in West Yorkshire.
As the Combined Authority aims to become zero carbon by 2038, some of the new funding could be used to get people to switch from private cars to public transport and to make more safe, green space for walking and cycling.
Today West Yorkshire's Mayor, Tracy Brabin, welcomed the £830 million funding announcement. She said:
"West Yorkshire bid for the upper limit of funding as set out by the Government, but our region needs even more than that if the government is committed to levelling up.

"As the Prime Minister said, it is indeed a disgrace that West Yorkshire is the only major region in Western Europe without a Metro system, so we desperately need the government to address years of under-investment in transport in our region.

"We're keen to get more details on this funding so we can start delivering a 21st century transport service.

"Our vision for a more accessible and inclusive transport system which helps us tackle the climate emergency is essential if we are to achieve levelling up.

"Everyone in our region has something to give and we want to make sure there's fair access to jobs, education and training which means they can increase their skills and get better paid jobs.

"I welcome the £830 million but I will be pushing for much more. It's good news though that the Government is finally giving us the boost which means we can start work on providing the transport system the people of West Yorkshire deserve.

"I'm grateful to all our region's leaders for working so hard to deliver devolution, enabling us to be considered for this vital funding."
"Bold' and 'ambitious' West Yorkshire bus pledge
Buses in West Yorkshire will be greener, run later at night and never charge anyone more than £5.50, writes local democracy reporter Richard Beecham.
That's according to the region's mayor, who this week said her new Bus Improvement Plan will transform services to ensure buses will be a "first choice" for everyone.
The plans, hailed by Mayor Tracy Brabin as "bold" and "ambitious", will allow transport chiefs to bid against other regional authorities for millions of pounds of extra spending money for bus services from central government.
But regional leaders also spoke out against the "beauty contest" nature of the bidding process, adding that the process for requesting funds from Government takes up time and resources.
The comments were made in a full meeting of West Yorkshire Combined Authority (WYCA), which looks after transport and large infrastructure projects in the region.
Mayor Brabin said:
"The bus has to be the first choice, and not the choice because you don't have a car. Our plan is bold and ambitious, but simple with its focus on the passenger.

"It is about connecting people to work, education and leisure opportunities. It needs to be inclusive, safe for everyone, and we need to re-imagine how we design the bus system so it serves more than just the traditional commuter.

"Our bus network needs to connect different communities – we also need to extend the hours of the day that buses serve these communities, with better frequency and regularity."
She added that 90 percent of transport emissions come from cars and vans, and that de-carbonising buses should be a priority.
The Bus Service Improvement Plan, published last week, includes a pledge to pay customers' taxi fares if the final bus service of the day is cancelled, and that the maximum cost of a day's bus travel be capped at £5.50.
It also commits to creating greener bus fleets and improving the region's roads to give buses better priority.
Commenting on the plans, Bradford councillor Rebecca Poulsen (Con) said she wanted more needed to be done to ensure rural and school bus services were up to scratch in future, and that doing so would encourage more people to use public transport.
She said: "It's the harder, more complex routes that are going to be challenging – it's difficult when buses finish at 7pm and run once every other hour when people want to run their lives.
"It is my plea that we do really work harder for rural communities."
Coun Poulsen added: "It seems to me that we put our most vulnerable people – our young children – on the worst buses.
"If you have ever followed a school bus, they are the oldest buses that can hardly get up the hills half of the time, with emissions flowing out of them – I really think we need to make sure we are providing decent school buses for young people."
Leader of Bradford Council Susan Hinchcliffe (Lab) said that many urban areas also saw inefficient and infrequent services.
She added: "There is an opportunity here, but it is coming at a time when some operators are cutting services – I don't want us to see this just backfilling those services originally paid for by the private sector.
"The money we spend I would like to see sustainable for the long term. "
More early morning and evening services are included in the plans, while improvements to bus stations in Halifax, Leeds, Huddersfield, and Dewsbury are also included.
A new passenger charter will pledge that, if the final bus service of the day on a route is late or cancelled, taxi fares will be reimbursed.
A "tap and go" system will be introduced next year which means passengers are charged the best price for their journey and never more than this daily cap.
Kirklees Council leader Shabir Pandor (Lab) cited that many differing communities faced inequalities when it comes to accessing transport.
He said: "I would want to get buses everywhere. You need to look at the situation in its totality. It's not as simple as putting a bus here and a bus there – it's about using your resources in an effective way.
"It's something we need to do in terms of levelling up – it's not about infrastructure, it's about people."
The plan will allow WYCA to bid for a share of a £3 billion funding from the Department for Transport. They are expected to find out whether their bid is successful in early 2022.
Leeds City Council leader James Lewis (Lab) said: "I welcome the ambition of this plan – I have been very clear about what we expect from our public transport, rather than what we are given.
"But if levelling up was not an empty slogan, we wouldn't have to bid for this, we would be given it with a bow on.
"I regret we have to go through rounds of bids for basic public transport that people in the South enjoy."
Mayor Brabin responded: "The beauty contest nature of it is very frustrating, time-consuming and takes up enormous resources. So let's hope we do well from this bid."