More details on improvement works at Armley Gyratory and bus priority measures through Stanningley, Bramley and Armley have been released by Leeds City Council.
As reported by The Dispatch last week, the council is planning to improve Armley Gyratory and has announced a series of consultation events at Bramley Community Centre, Armley Leisure Centre and Pudsey Civic Hall. More details here: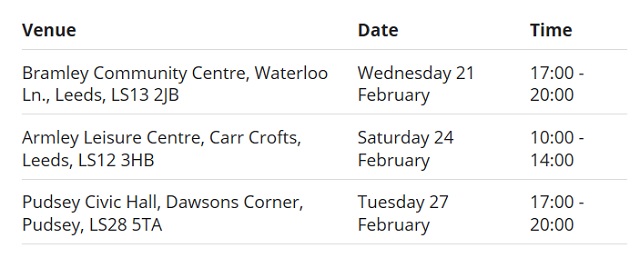 A series of consultation events about bus priority measures will also be held.
They're held on:
Monday, 19 March – 5pm to 8pm at Armley Leisure Centre
Wednesday, 21 March – 5pm to 8pm at Bramley Community Centre
Saturday, 24 March – 11am to 2pm at St James Parish Hall, Galloway Lane (Pudsey)
Leeds City Council today gave an update on the transport strategy for the city, which has a new name – 'Connecting Leeds'.
The council has set a target of doubling the current 250,000 bus trips made in the city per day within 10 years and is wanting to hear people's views on plans to introduce new infrastructure including bus priority measures on three key routes in the city:
Bradford to Leeds via Stanningley, Bramley and Armley;
Alwoodley to Leeds via Moortown and Chapel Allerton;
and Oakwood and Roundhay to Leeds via Harehills and St James's Hospital.
Under the plans, bus priority measures would be introduced, improving bus journey times and service reliability. Available space on roads would be increased, with enhanced cycling and walking provision also central to the plans.
Bus stops would be improved, with new features including offering the latest real-time service and travel information.
Connected to the Bradford to Leeds route, Leeds City Council is also seeking views on plans to improve Armley Gyratory to offer better traffic flows and reduce congestion.
To take part in these consultations, which include drop-in sessions taking place over the coming weeks, visit this site.
Leader of Leeds City Council, Councillor Judith Blake, said:
"We are very pleased to be updating the city today with where we are on delivering the changes we need to our transporting network. Lots of work is going on across the city and now we need to continue the transport conversation by talking in particular about enhanced bus services and what we need to do to make bus travel faster, more efficient, reliable and cleaner.

"Looking at all aspects of a road network, we want to maximise the limited space we have so it is as efficient as possible. Priority bus networks have proven to be highly effective, so we look forward to sharing the plans and hearing what people think."
Improvements will be funded from £173.5million of Government funding to be invested in a package of improvements in transport in Leeds following the collapse of the collapse of the Leeds Trolleybus scheme last year.
Wider improvements include new park and ride services, bus priority lanes and modernised transport facilities across the city.