By Raodot Olayiwola, Matthew Shaw and Michelle Corns
The Queen's Platinum Jubilee celebrations in Pudsey run on Friday, 3 June and on Saturday, 4 June. West Leeds communities have a lot of events planned to keep you busy and celebrating. Here are some of the events you can attend:
Pudsey
The Pudsey Platinum Jubilee music and arts festival will take place on Friday, 3 June at Pudsey Park and Saturday, 4 June at the Pudsey Parish Church.
There will be live music, DJs, stalls, live art, a photo exhibition and more.
Swinnow Community Centre is hosting a massive Jubilee event in their grounds. The event runs on Sunday, 5 June from 12pm to 5pm. As well as live music, a DJ, and Irish dancing, guests can indulge in some plate smashing to raise funds for the British Heart Foundation. Centre manager Yvonne Allman loves to feed the locals and this event is no exception as there will be a barbeque and food tables where everyone brings a contribution. There will also be a beer tent. Local roller skating group Leeds West Rollers donated £100 towards the event. Youngsters can enjoy a bouncy castle and there will also be sports equipment that parents can borrow to play games such as sack race, egg. and spoon race, tug o war and cricket, in the park. Yvonne said: "This is a community event for everyone to come and enjoy, just a good old fashioned fun day. We have had local people help us make bunting, Park Spring Primary School are making place mats and the LCC youth group are making flags. This is the community coming together, and we would love to take this opportunity to invite everyone to come and have a good day." Yvonne has also made a plea for volunteers to help out at the event. Contact swinnowcommunitycentre@hotmail.com or call 0113 256 6576.
Armley
The Platinum Jubilee at Armley Hub event will take place on Wednesday 1 June at Armley Community Hub and Library. The event is free and open to the public. The event will provide partners with the opportunity to promote their work in the community through fun family activities, such as heritage explorations, colouring, crafting, cookie making and decorating.
If you live in Armley and do not have any Jubilee plans, the Leeds Wool festival on Saturday, 4 June at Armley Mills is a good way to spend the day. 
At St Bartholomew's Church, Wesley Road, on Thursday, 2 June, at 4pm there will be a music party for the Queen. Music from the 1953 Coronation will be played on the world-famous Schulze Organ plus Rule Britannia, Jerusalem, and the National Anthem with new harmony by Paul Ayres. Tea, wine and cakes will be available with free admission. Facebook.
Kirkstall
Jubilee tea party at the Kirkstall Valley Farm on Thursday, 2 June from 2-4pm. The event is aimed for adults, but children will need a separate ticket to attend. Find more details about the event and tickets here.
Leeds Street Gallery and Seagulls paints are holding a Jubilee Block Party on 4 June, 12pm-9pm. The event includes live graffiti, an independent market, food, drinks, and music all day.
An evening of family-friendly live music at Kirkstall Valley Farm will be happening on Friday 3 June. Music from the Attic will headline the event. Other activities include an Irish dancing performance, forge demonstration, pottery making and a young children's play area. A bar and simple refreshments will be available. People are welcome to bring their own picnic but any alcoholic drinks should be bought from the bar. Gates open at 5pm. Music and activities start at 6pm.
Farsley
Farsley has a lot of fun in store for the community during the jubilee bank holidays. On Thursday 2 June a beacon will be lit on Woodhall Hills as part of the National Chain of Beacons to mark the start of celebrations.
Friday 3 June 2022 from 1pm to 5pm there will be a traffic-free Town Street party. The Farsley town street will be closed to traffic, everything will move on to the street leaving the pavements free for pedestrians. Local business, cafes, restaurants, shops and organisations have been encouraged to set up cafes and food outlets on the street. Local entertainers, musicians are encouraged to come along on the afternoon and join the fun.
There will be A Big Event in Weavers Yard on both the Friday and Saturday which will offer entertainment and food. Farsley Business Forum have organised and paid for the road closure, stewarding and security during this four-hour period.
On Saturday, 4 June the Farsley Festival returns with an event for the family in Hainsworth Park. It runs 12pm-5pm. Full details here.
Farsley Community Orchard is holding a Jubilee Sale. Local residents now have the opportunity to buy a fruiting tree from the orchard for £10, and add it to the Queen's Green Canopy Map. There will be local pick-up available over the Jubilee weekend. You can visit their shop here, and add your tree to the Queen's Green Canopy Map here. For more information visit their Facebook page.
Farnley
Jubilee picnic will be held at the Farnley Community Centre on Saturday, 4 June from 11am to 3pm.
Lancasterian School Room in New Farnley has some events planned. A Jubilee afternoon tea party will be held on Friday, 3 June from 2pm to 4pm. The event will include a book stall, plant stall and a raffle. There will also be a Jubilee Village Fete on Saturday, 13 August from 1.30pm to 4pm.
Rodley
Crown and Anchor pub hosts a Queen's Jubilee Party – 4 June. It will feature music, arts and crafts for kids, a garden party and more. For more information about the event visit the Crown and Anchor Pub Facebook Page.
Wortley
Join the Community Jubilee celebrations at the West Leeds Sports and Social Club. The event will be happening on Friday 3 June. The event is open to the public with no booking required. To find out more, contact Glenn.broadbent@sky.com. West Leeds RUFC, Wortley FC, Bramley Buffaloes RL and Leeds Bobcats American Football invites members of the community to join them on Friday 3rd June to celebrate Her Majesty's Platinum Jubilee. This family focused day will start at 2pm with free entry and entertainment. Traditional games such as Sack Races and Egg and Spoon will be happening. Bouncy Castles and shoot out for footie fans will be free. There will also be a competition to find West Leeds' fastest Man and Woman with a £50 prize to the winner of each competition. A and stalls selling everything from hair decorations to gluten free and vegetarian food will be on site from 2pm to 6pm. Indoors entertainment starts at 4pm with Rob Hiscoe. Finally, a disco and Karaoke starts at 7pm. This event is to raise money for defibrillators in the community.
Calverley
On Friday, 3 June from 1-4pm at St Wilfrid's Parish Church in Calverley there will be a Jubilee celebration. There will be a variety of events such as the tower bells out a Grandshire Quarter Peel at 3pm. They encourage people to bring in any memorabilia or photos that include the church so the church can be shown throughout the time of the Queen's reign although they aren't liable for anything lost or damaged.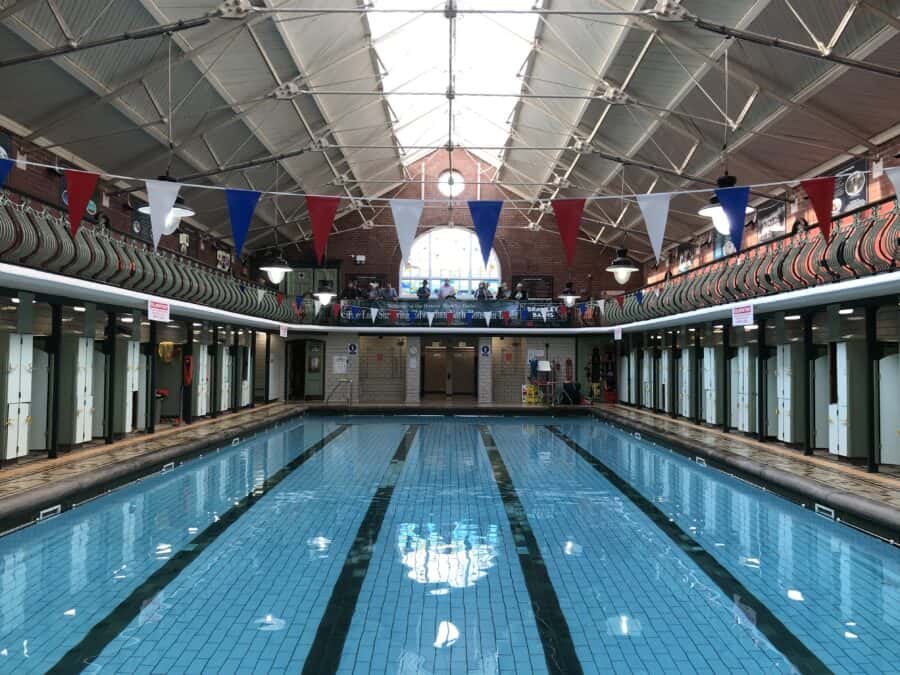 Bramley
On June 5 on Calverley Lane, Bramley Baths is holding a Jubilee celebration. It will be £1 an entry (including raffle) with various 'old school' games including whip and top, hook-a-duck and coconut shies. It will be on from 12pm to 4pm with picnic boxes for kids (£2) and adults (£3).
The Bramley Care Bears and Broadlea Community Centre are holding an event on Thursday:
Join Bramley Junior parkrun in Bramley Park for a Jubilee Juniors extravaganza. Dress up in red, white and blue, pop on your best crown or coronet and jangle your crown jewels for a right royal Bramley junior parkrun. Sunday, 9am.
Bramley Park Crown Green Bowling Club is holding open afternoons from 1pm on Friday 3 June and Sunday 5 June, come along for a tea/coffee and try out playing bowls and discover the benefits of playing an outdoor game.
To add your event to this list, drop WLD a line on news@westleedsdispatch.com.
Sponsored content