Volunteers have spent a busy day removing rubbish from Farnley balancing reservoir to help make the area safer and cleaner for local residents.
Open Source Arts and Team Kirkstall, who have been leading the post-Boxing Day Kirkstall floods clean-up, joined forces with Yorkshire Water (YW) to organise litter picking sessions for YW workers and local volunteers to help spruce up the area.
The first of the two sessions saw 32 bags of litter, an old vacuum cleaner and a couple of tyres being removed from the site.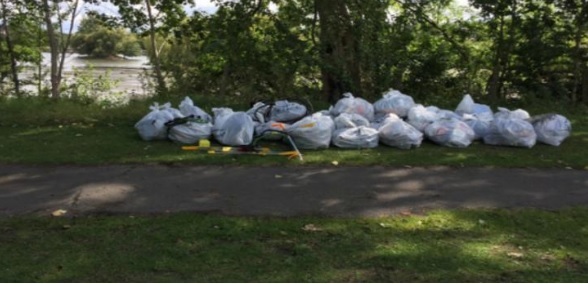 A Yorkshire Water spokesman said there is a second session due to be held on Wednesday, 30 August, and members of the public are welcome to come along for some or all of the day. He added:
"If you'd like to attend, please contact Open Source Arts.

"All equipment will be provided as well as tea and biscuits but please bring your own lunch. Children are welcome if they are accompanied by a responsible adult."
Leeds West MP Rachel Reeves, who had campaigned for the clean-up following concerns by local residents, welcomed the effort but said more needed to be done in the reservoir itself. She said:
"Good to see Yorkshire Water have cleaned the outside of the reservoir.

"However, there is still a lot more to be done to remove items from the water. I will be meeting with Yorkshire Water shortly to discuss the continued maintenance of the site and ensure that the water and area surrounding is regularly maintained in the future."
Local resident Ronnie Stocks added on Facebook:
"It also needs digging out where the silt has collected in the water near the birdfeeding platform."
Farnley balancing reservoir helps store rain water that flows off properties and roads in the area and holds it in the pond to prevent flooding.