A plaque celebrating Leeds United's success and the rich heritage of the TV Harrison Ground has been unveiled on the 'Bielsa the Redeemer' mural on Oldfield Lane, Wortley.
The plaque pays tribute to Leeds United's championship winning success and pays homage to many famous footballers who used the TV Harrison ground as youngsters, including Madeley, Reaney, Batty and Deane.
It also highlights how the ground was bought by the people of Leeds to improve children's mental and physical health.
The plaque was installed at the 'Bielsa The Redeemer' mural, which has received international recognition after Nicholas Dixon and Andy 'Burley Banksy' McVeigh worked to produce it earlier this year.
Campaigners are fighting against council proposals to build local authority housing on the site. Chairman Michael Meadowcroft said:
"We are well on. We have made the case to Leeds City Council and we've spoken to the Charity Commission as the replacement facilities are over on Thorp Arch on the eastern side of the city, which is nowhere near here.

"This isn't some piece of history, these facilities are being used now. The football pitch is in use, people are using it for training and all kinds of things."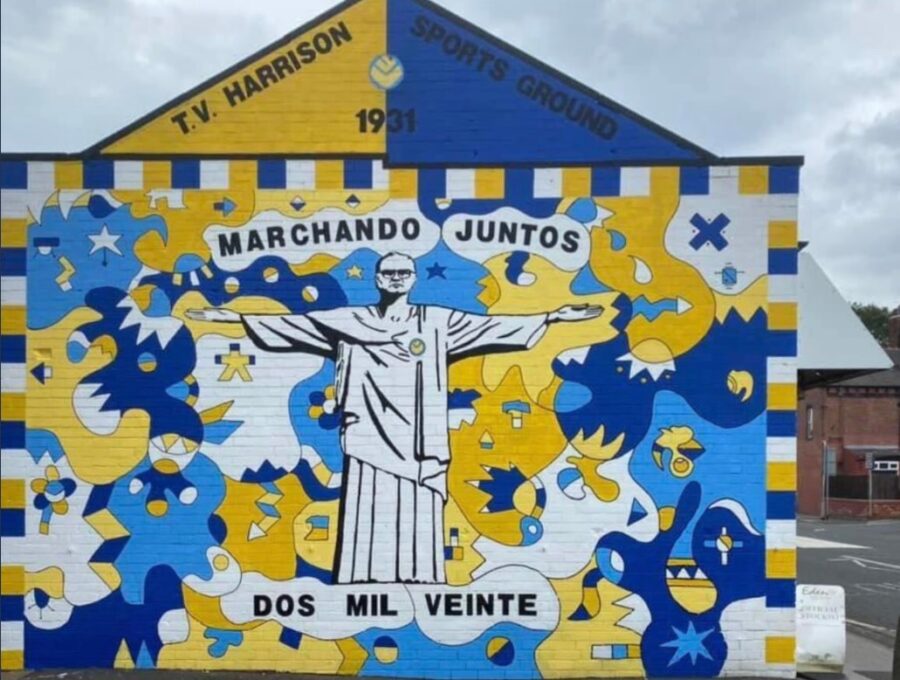 The plaque was funded by The Yorkshire Party. Ian Cowling said:
"The campaign team have done a fantastic job over the last two years or more with no help from their local councillors.

"So when I was asked if could help, I was delighted to do what ever I could to raise the awareness of this unjust and frankly ridiculous idea of building houses on a perfectly good football pitch and sports field.

"Leeds City Council need to explain why they think this is what the local people of Wortley and surrounding areas are wanting, because it is NOT. Why not build houses on nearby brownfield sites instead – or has common sense been banned?"
Leeds City Council say the site was part of a lengthy public consultation as part of the city's Site Allocation Plan and that local authority housing is much-needed in the area, with