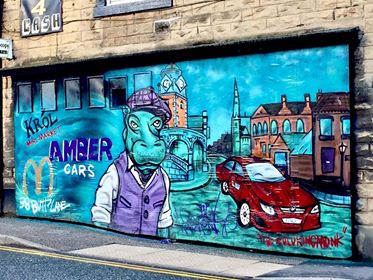 Armley's famous hippos have been brought to life in a recently-installed mural at the junction of Armley Town Street and Branch Road.
The hippo on the colourful artwork refers to the hippo bones from four animals found in 1851 at the site where Armley Gyratory now sits.
The hippos were found to be from around 130,000 years ago, from times when hippos freely wandered around Leeds. Its remains are kept in Leeds City Museum.
The mural is the work of Leeds-based King Monk Studio, who were supported in their work by Butt Lane McDonalds, Amber Cars, Krol Mini Market and Leeds City Council.
The hippos are also commemorated in heritage paving in Armley Town Street.
____________
We encourage anyone living or working in West Leeds to use this website to tell their news. You can either use our Create an Article page, or e-mail us at news@westleedsdispatch.com.