West Leeds pensioner Harry Ratcliffe has celebrated his 90th birthday in style – with a round of golf with pals at Gotts Park Golf Club in Armley.
The club's oldest member, who has been playing in Gotts Park for more than 30 years, joined his golfing buddies playing a friendly fourball comp to mark the big day.
And they treated him to a special golfing birthday cake to mark the occasion.
Speaking to WLD, Harry said the thing that kept him going at the community-led course were the friendly people. He said:
"They're all very friendly, every single one of them. They're a good group of people and that's one of the main reasons I keep going down.

"The course is very hilly and it keeps me fit and active. For the most part I keep up but I don't do the 'Cardiac Hill' – the fifth hole – as it's too much. But at least I'm still able to get round. Friendship and fitness – what more does a man want?"
Harry says people of all ages and abilities and shapes and sizes come to Gotts Park to play and that the course is his 'special place' when he comes to play every Thursday.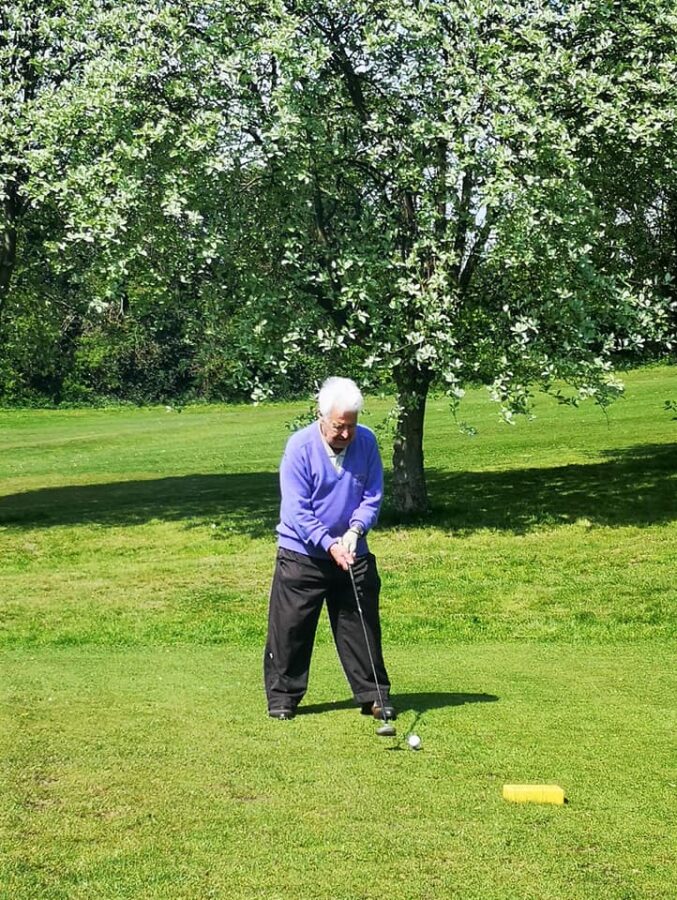 Harry also celebrated his birthday by buying all his golfing friends a pint. He added:
"And then they came out with this massive birthday cake and a card they'd all signed, which included their golfing tips. It was a real surprise.

"There aren't many 90-year-old golfers and I'm hoping to keep going for some time yet."
Gotts Park Golf Club was saved from closure back in 2015 as members formed a Community Interest Company and took over control from cash-strapped Leeds City Council.
More information on the club, which prides itself on being inclusive and reasonably priced, can be found here.
History of Gotts Park
In 1812 Benjamin Gott, a prominent Leeds business man and mill owner, bought the house for his mother-in-law. When she passed away in 1816 Gott had the house rebuilt and took up residence himself.
The Gott family lived in the mansion until the 1900's. In 1928 the building and grounds came under the ownership of the Wade's charity.
Wade's Charity subsequently leased the Mansion and its grounds for 999 years to Leeds City Council. Part of the agreement was to see the grounds of the mansion remain a leisure space for the people of Leeds. Consequently on the 8th April 1933 Gotts Park Golf Club saw its first nine holes open to the public.
Over the coming years it was developed by the then director of parks Thos. R Trigg and Colin Robertson, a prominent public gentleman, into an 18-hole course.