"Who's been sitting in my chair?" is a question that Wortley artist Helen Gibson has spent a lot of time considering in recent months.
Her latest work celebrates the often-overlooked chair and challenges people to explore Leeds Museums and Galleries to find their favourite chair from the vast historic collections.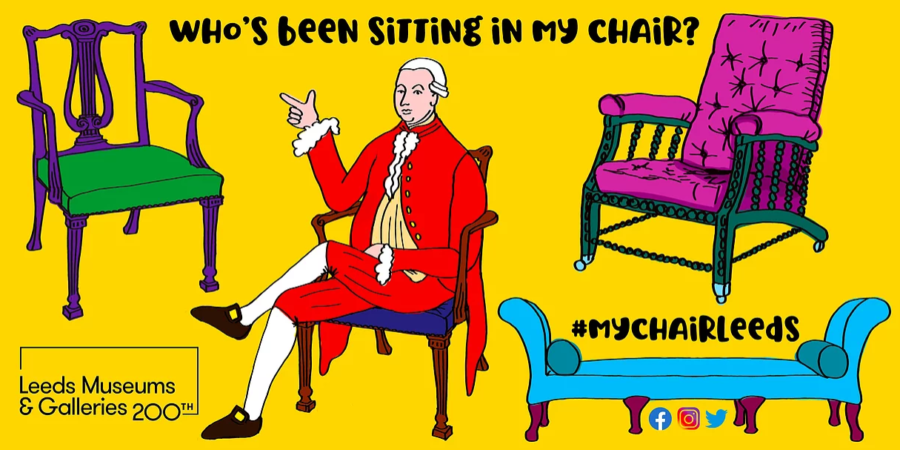 From the treasure trove of chairs in the Discovery Centre, the homely seats of Thwaite Mills House, to the ornate chairs of Lotherton Hall and Temple Newsam, there is a diverse array of styles, used by a variety of people throughout history, sympathetically presented across Leeds Museums and Galleries sites.
Helen's challenge is this:
Visit any Leeds Museums and Galleries site
Pick your favourite chair from the collections
Photograph or sketch your chair
Imagine Who's been sitting in my chair?
Draw your chair and historic sitter
Share your drawings and photos through social media with the hashtag #MyChairLeeds.
Ms Gibson goes under the professional name of The Perky Painter and is well known for her happy art which is cheerful, colourful and bold, and for the young at heart. She said about her new project:
"Over lockdown we have all grown (maybe too) familiar with the chairs occupying our homes. here we transport ourselves back in time through the collections to discover the history and beauty in the everyday."
The online community gallery #mychairleeds allows people to see the chairs through someone else's eyes and can be enjoyed by those not able to attend Leeds Museums and Galleries due to health or shielding concerns.
These artworks will be composed into a short film celebrating the Leeds Museums and Galleries collection and 200th birthday.
Helen added:
"It's very important to me to make this project as accessible and inclusive as possible so that any resident of Leeds can take part creatively or enjoy the collection as part the audience online."
Find out more at: www.perkypainter.com/mychairleeds. Here you'll find a helpful downloadable drawing guide and artist video with tips for sketching on the go.
Join the free online drawing workshops taught by The Perky Painter live via Zoom:
Children & Families – Sunday 4th July 10-11am
Adults – Wednesday 7th July 2021 7-8pm
Get-together for everyone – Sunday 18th July 10-11am
Both Leeds Industrial Museum in Armley and Abbey House Museum in Kirkstall are part of this project.
About The Perky Painter
The brightly coloured paintings and whimsical illustrations of Leeds artist Helen Gibson, professionally known as The Perky Painter, are instantly recognisable.
Well known in Leeds for her cheerful artwork and even cheerier outlook, The Perky Painter is all about spreading joy through art. Her popular "Fruinimals" are particularly loved by young families, these comical fruit-animals have been exhibited all around Leeds and are likely at home in a kitchen near you.
Visit www.thePerkyPainter.com and follow her @ThePerkyPainter on Facebook / Instagram / Twitter.