Photos – Helen Gardiner
Words – Iola Shaw
This spring has seen a growth of fun headwear for Kirkstall's post boxes.
Helen Gardiner, a Kirkstall resident, saw the idea online and thought it would be fun to try. Judging by the photos shared on Instagram it's been a big hit.
She taught herself to crochet, after a lesson or two from a family member and a friend three years ago.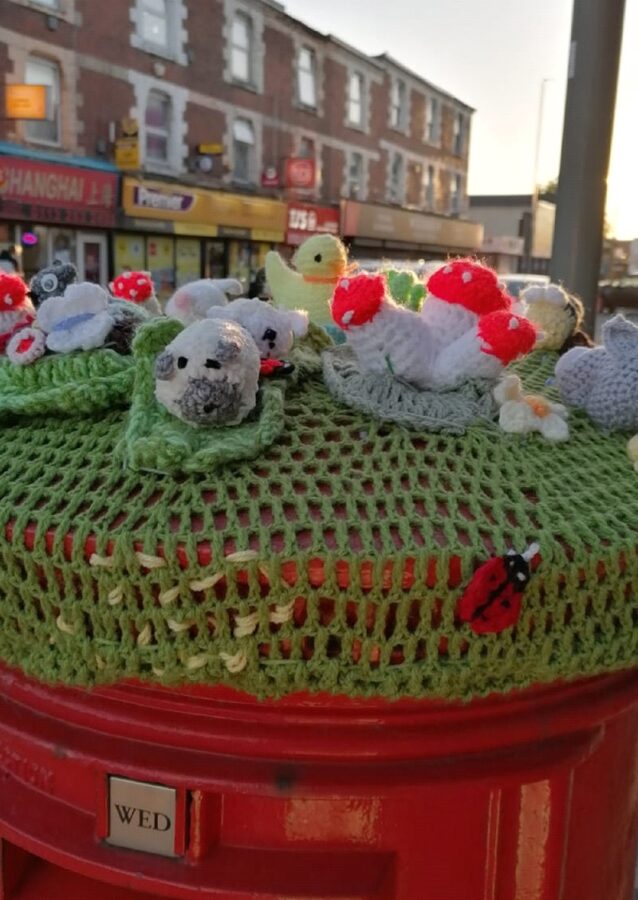 Helen is dyslexic and found standard crochet patterns impossible to follow, but having learned the basics she found by looking at pictures others had shared she could generally work out what to do next – and so gave it a go.
She measures up the post box and then starts work with her ideas. Helen has learned putting a bit of elastic into the mix helps prevent the wool losing its style in the British weather, so can move her creations around and share the joy.
Currently her creations can be seen on Vesper Gate Mount, outside the Kirkstall Road post office, another by the fire station and one opposite the Carvery on Horsforth ring road.
She has plans for more – with specific dates in mind like Hallowe'en and Poppy Day as well as an afternoon tea with cake and strawberries.
Helen tries to keep them local as she loves seeing them, and other people's reactions when she is out and about. You may have seen other evidence of her expertise. She has created an alternative "easter egg" hunt with a variety of small animals and items for her local neighbourhood group chat and made NHS rainbows as part of a fund raiser last year.
Helen appreciated requests for more items, but recommends others join in saying:
"Crocheting is very relaxing and seeing something you have created out and about is great, just give it a go!"