A Bramley woman who does so much for her community is the latest West Leeds 'Good Egg' to be thanked for her work.
Dawn Fletcher is the latest person to be thanked publicly for making a difference to other people – she's the person behind a number of initiatives, ranging from hiding books for people to find and brightening utility boxes through to litter picking and more.
WLD recently appealed for readers to nominate and publicly thank their 'Good Eggs' – selfless people who go the extra mile for others without recognition.
Josie Armitage nominated Dawn for a special thanks due to all her hard work. Josie said
"I admire Dawn as she does so much for West Leeds. What isn't she involved in?

"She has created and made many ideas a reality, encouraging other people to get involved – Bramley Look for a Book, West Leeds Rocks, painting utility boxes to brighten everything up!

"And now an active member of Bramley Wombles helping to keep our streets tidy. She has inspired so many people to get involved in hiding books and rocks and created real community involvement."
Josie, who is a West Leeds Dispatch community reporter, also nominated Dispatch editor John Baron who, along with the team of community reporters, 'have kept us going during Covid-19 with local news stories and the great things happening in West Leeds'.
WLD is run solely by volunteers and Josie added:
"John is behind the scenes supporting the team and writing many articles himself, enabling the daily e-mail to drop into our mail boxes with stories to read each day. Of particular note was the print edition lastyear, which John put together. It was a celebration of all the great work that the lovely people of West Leeds were doing to help others, especially during the first lockdown."
Your chance to say 'thank you' to someone for making a difference in West Leeds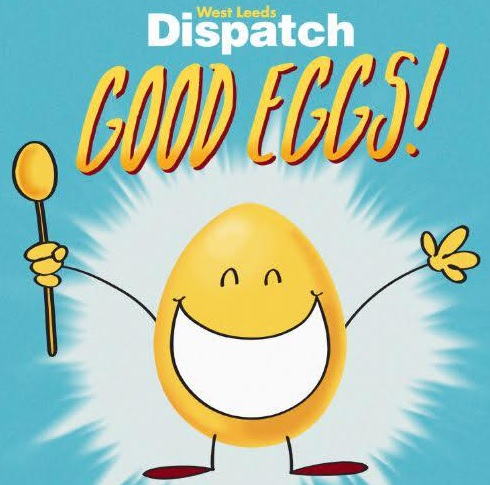 'Good Eggs' don't have to be a lifesaver – they could be someone who does the little (but important) things in life, like doing the shopping for an elderly neighbour who can't get out.
Nominees could range from someone who picks up litter in the street, works tirelessly as part of a local community group, or volunteers their time to make a difference where they live without wanting anything in return. In fact, anything that shows generosity of spirit!
Nominating someone couldn't be easier…
Simply drop us an e-mail – at news@westleedsdispatch.com – providing us with the name of the person you'd like to nominate and some reasons why you'd like to nominate them.
Please include your own telephone number so we can contact you.
Please help independent community led journalism in West Leeds become sustainable…