A 'superwoman' who makes such a difference to the lives of so many people in Bramley is the latest recipient of a West Leeds Dispatch 'Good Egg' shout out.
WLD recently appealed for readers to nominate and publicly thank their 'Good Eggs' – selfless people who go the extra mile in their community without recognition.
Eileen Bamford nominated Bramley's Fran Graham for her multiple activities in the community – as well as excelling at her job at Bramley Elderly Action. Labelling Fran a community 'superwoman', Eilieen said:
"Fran doesn't know me and I've never met her directly but I've heard so much about her from my friends.

"Where to start as she does so much? Well, she works wonders with the elderly in her day job at Bramley Elderly Action – she works long hours and goes above and beyond! Nothing is too much trouble for her and she helps with all the little things in life, which make a real difference to people's lives.

"She's helped co-ordinate the 'Br-Amazon' deliverers who are runners from Bramley Breezers who deliver lifeline stuff to the elderly and vulnerable. Fran is also a leading light in the Barley Community Group – and she played in big part in saving Bramley Baths and was on the board for many years. She's made such a difference to so many in Bramley and I wanted to say thanks."
Your chance to say 'thank you' to someone for making a difference in West Leeds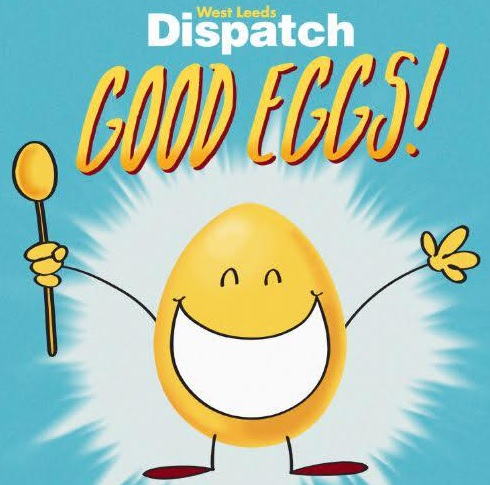 'Good Eggs' don't have to be a lifesaver – they could be someone who does the little (but important) things in life, like doing the shopping for an elderly neighbour who can't get out.
Nominees could range from someone who picks up litter in the street, works tirelessly as part of a local community group, or volunteers their time to make a difference where they live without wanting anything in return. In fact, anything that shows generosity of spirit!
Nominating someone couldn't be easier…
Simply drop us an e-mail – at news@westleedsdispatch.com – providing us with the name of the person you'd like to nominate and some reasons why you'd like to nominate them.
Please include your own telephone number so we can contact you.