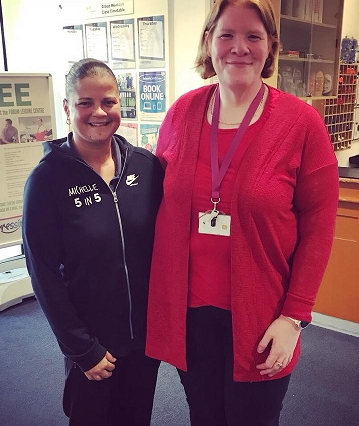 Two West Leeds friends will be putting their best foot forward to walk the equivalent of from Leeds to Liverpool to raise funds for Diabetes UK.
Andrea Whiting, 47, from Bramley and Michelle Shore, 43, from New Wortley will be covering the 131 miles in round trips to and from Leeds across five consecutive days.
And they're asking you for your support.
Andrea, a civil servant, said:
"Michelle and I have been walking together for a few years now. It began as a way to catch up while also getting fit but we decided we wanted to push ourselves a little further. This will be the most challenging thing we've ever done."
Michelle, who was diagnosed with Type 1 diabetes at 15 years-old, added:
"Diabetes UK provide people with diabetes vital support and campaign to improve care and treatment for people living with the condition. This is our way of supporting their work and for me it's also a way of showing that diabetes doesn't have to stop you doing anything."
The friends, who regularly go on rambles along the Leeds-Liverpool Canal and in the moors around Leeds, will be setting off on 26th May. Michelle's daughter Chloe, 19, who also has Type 1 diabetes will be joining them for parts of the challenge.
Andrea added:
"Three years ago I weighed over 30 stone and found it difficult to even get to the bus stop. I found walking was an easy way to get into exercise and something I could fit into everyday life −it's made a huge difference to my fitness and endurance. So as well as raising funds for Diabetes UK we hope our efforts might inspire other people who are looking to get fit."
Tyler Anderson, Diabetes UK Regional Fundraiser, said:
"Michelle and Andrea are embarking on a huge challenge for Diabetes UK and we are incredibly impressed by − and grateful for − their efforts. Their support and the money raised will help us move closer to a world where diabetes can do no harm."
To support Andrea and Michelle's efforts visit this fundraising site.