A team of 11 volunteers have brought colour to Moor Top in Armley.
The group from National Citizens Service – The Challenge tided up the park, litter picked and created a new floral display at the junction of Wortley Road and Town Street.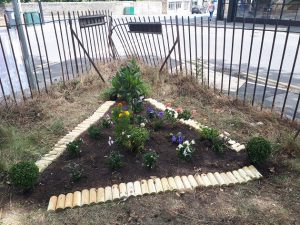 National Citizens Service provides opportunities for 15-17-year olds to take part in a five-week challenge giving them confidence building activities and the chance to spend a week away as a team.
Having spoken with people at the Armley Festival the volunteers set about raising funds to support the project and exceed their target, the remaining funds will be donated to the Armley Festival Committee to support future community events.
Volunteer Emmanuel said:
"I have learnt how we have an all for one, one for all attitude to our tasks."
And Sharrani added:
"I have never done gardening before and I enjoyed it."
Team leader Lizzy was delighted with the results of the team's efforts and fundraising abilities.
The volunteers were in Armley as a result of a meeting with Chairman of the Armley Festival Committee Glenn Broadbent, who said he was proud to have facilitated yet another event to show what Armley can do when it works as one.