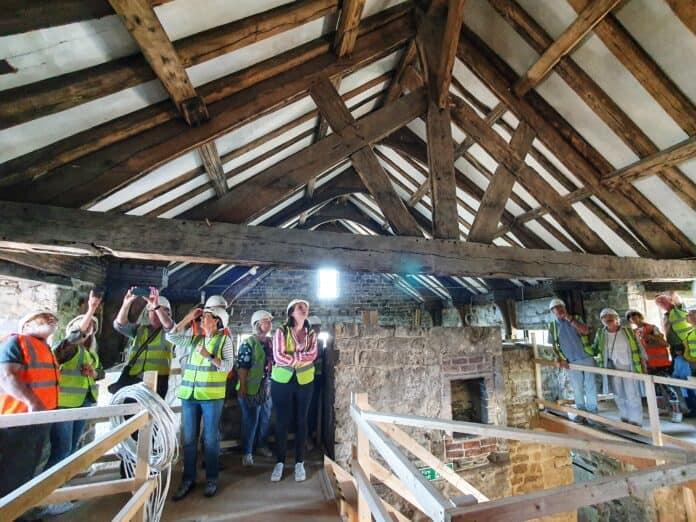 The Landmark Trust, which owns the historic Calverley Old Hall, threw open the doors to show neighbours and visitors how much work has been done there over the past year. The answer is – a LOT, writes Anne Akers.
In the latest in a series of open days and events, visitors wore hard hats and hi-viz to tour the grade one listed building.
The hall, which dates back to the 12th century, but had its heyday in Tudor times, is on English Heritage's At Risk register after falling into disrepair with everything from a leaky roof to broken windows, vandalism and theft of the valuable Yorkshire stone.
Thanks to a £1.6million grant from the National Lottery Heritage Fund the hall is being returned to some of its former glory.
The interior, which had once boasted grand halls with vaulted ceilings, its own family chapel and intricate carvings, had been hacked about to create 19th and 20th century cottages where tenants lived until the late 1900s.
As a charity which buys old buildings to preserve them by rent them out for holiday accommodation, The Landmark Trust's plans are to create rooms for up to 10 people and in a first for the Trust, the accommodation will be fully wheelchair-accessible.
Since the last hard hat tour nearly a year ago, heating has been fitted using modern-day heat pumps, and bedrooms marked out. Ceilings have been plastered and a new floor added to the hall known as the Solar, returning it to how it was in the 1500s.
Archaeologists last year uncovered extremely rare Tudor wall paintings, which are being preserved and will be an amazing sight for whoever bags that bedroom when staying there!
While the work is ongoing, the Trust is holding workshops to teach crafts that would have been used in the hall over the centuries, such as joinery, plastering and weaving.
Once the work is completed next February, with the first lets in May, there will be a space for the local community to use for activities and meetings.
Calverley Old Hall has a long history dating back to medieval times. It was in 1605 century that it earned its sinister reputation when the owner, Sir Walter Calverley, murdered two of his sons and seriously injured his wife, he was subsequently hunted down, tried and pressed to death.