Initial proposals to close residential close roads used by rat runners in Bramley will be discussed at a series of consultation events later this month.
The newly-formed Victoria Park Community Association (VPCA) is working with Leeds City Council to look at a six-month trial to close certain roads to through traffic in the Victoria Park area.
As reported by The Dispatch, road safety concerns in the area came to a head last September when two cars were involved in a collision at Victoria Park Avenue, at the junction with Lancastre Grove. The cars narrowly missed passing families walking to school.
In a letter to householders, VPCA said:
"We came together at the end of 2017 from different streets across the area wanting to do something positive after some of us were involved in a near-miss car crash with our children on the way to school. We found out that many local people had stories of unsafe streets – and now we want to see some positive solutions that will make it safer for everyone.

"We have been talking to local councillors and highways officers about how what could be done to improve road safety – particularly for children – and the behaviour of motorists on our streets."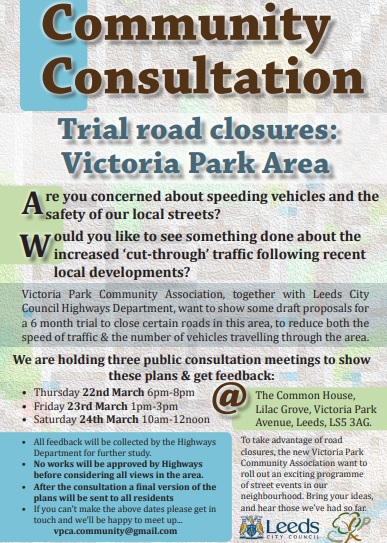 VPCA has organised a series of short meetings jointly with Leeds City Council at the Lilac Grove Common House on:
Thursday, March 22 (6pm-8pm)
Friday, March 23 (1pm-3pm)
Saturday, March 24 (10am-noon)
Feedback and ideas will be collected at the meetings for further study by the council.
The group is also campaigning for a children's playground on the fields between Outgang Lane and Victoria Park Avenue.