By Amy Downes
Children aged between 11-18 will have a unique opportunity to show their creativity and entrepreneurial spirit in a one-week, sustainably-focused programme in Farsley during the February half-term school holidays.
The Creative Enterprise Challenge is described by the programme's leader Sami Lovett as a "real life 'The Apprentice' meets 'Dragon's Den' experience".
It takes the best aspects of these successful TV shows and blends them with practical skills workshops led by Sami, to form a programme designed to give children a valuable opportunity to develop their skills and confidence.
Sami, a successful product designer and workshop instructor who founded her Just Lovett Design business at Farsley's Sunny Bank Mills five years ago. She also runs Just Lovett Workshops where she empowers people to get creative to boost their wellbeing.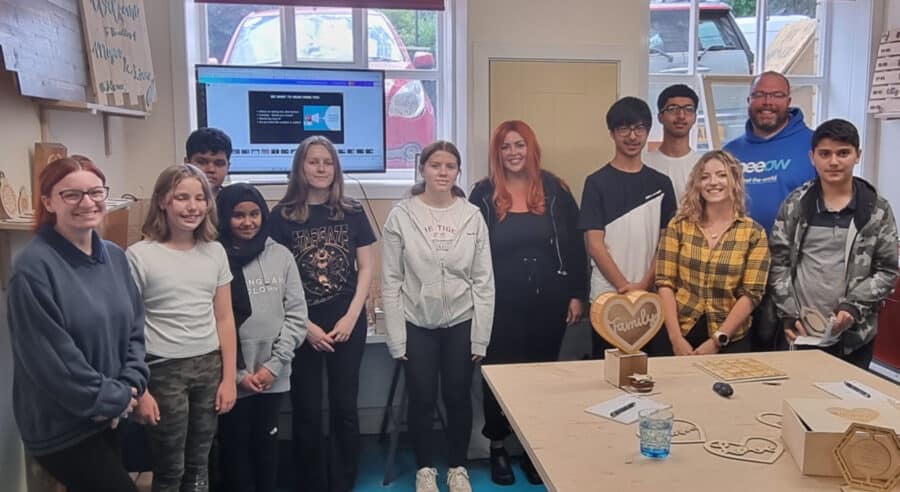 Sami developed the Creative Enterprise Challenge programme to empower children in a real-world business context that could inspire them to one day start their own business. She also saw an opportunity to put sustainability at the heart of the programme by making use of waste wood materials from a local manufacturer, Morley Glass, that would otherwise go to waste.
Over the course of five days, ten students are split into two teams of five to meet a sustainable design brief that involves designing a brand, product, marketing video and start-up business plan.
They design and make their own products using recycled materials and learn handicraft, graphic design and digital fabrication skills in Just Lovett Design's workshop throughout the week.
The students also learn business skills to enable them to cost out their products with a view to making a profit at retail. At the end of the week, each team has its 'Dragon's Den' moment where they present and pitch their creations to an expert panel of judges who are successful entrepreneurs themselves.
As part of the programme, the teams will have to identify a target market or corporate clients. If they are happy with their finished products they can then go on to sell them to these customers should they want to.
Sami Lovett said: "The Creative Enterprise Challenge aims to educate and inspire children, who will walk away at the end of the week with so much more than a product and a business plan.
"We've seen the transformation that's possible in just one week in previous programmes, with the children often starting the week a little nervous but by the end of the week they've made new friends and really built their confidence."
All the wood used in the products made by the students in the Creative Enterprise Challenge originates from re-used wooden boxes and plywood sheets supplied by Morley Glass, a Leeds-based manufacturer of double glazed window units that feature integral blinds.
The company has also sponsored the Creative Enterprise Challenge Scheme to help Sami get the programme up and running in 2022. They have generously promised to donate 50% of the fees for 2023 too.
Registration is now open for children to take part in the next Creative Enterprise Challenge which will be held in the half-term week, 13th to 17th February, at Lovett Design's studio at Sunny Bank Mills in Farsley.
Sessions run each day between 10am and 3pm and the cost to take part in the five-day programme is £150 per child.
Further details about the programme can be found here.
Sponsored content