By John Baron
Paramedics on the picket line in Bramley today have spoken about what they claim are 'dangerous' conditions on the NHS due to working conditions and staffing levels.
Ambulance workers across the country began the second day of strikes on Wednesday (January 11), demanding fairer pay and conditions from the government. Workers across every trust in the country went on strike with many trusts declaring critical incidents due to the pressures on the health service.
One striker told WLD: "At the moment the demand is so high and the staffing levels are so low. Emergency care has almost effectively collapsed. Ambulances are essentially becoming mini-hospitals due to the lack of beds.
"I can spend an entire shift trying to hand over patients to hospital unable to get to the next life threatening job. The pressure on emergency services is dire and people simply don't have the support they need."
The NHS today said people should use services "wisely" and only call 999 in a life-threatening emergency as about 20,000 ambulance workers walk out in England and Wales.
It has advised the public to only call 999 where there is an immediate risk to life and the sickest patients will always receive help first. People should use 111, GPs and pharmacies for non-urgent needs.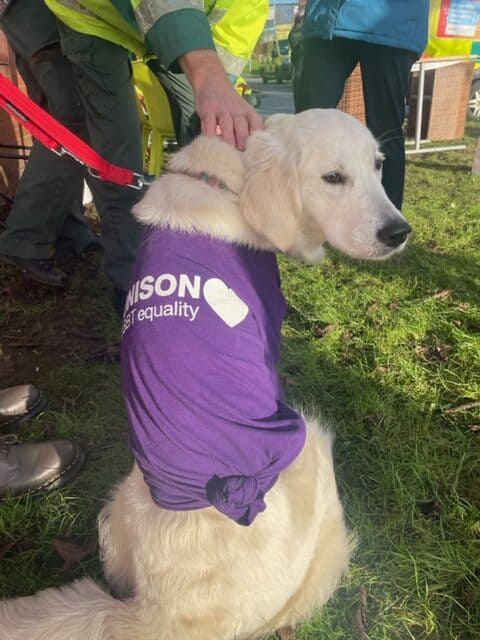 Craig Dawson, political officer for the GMB Union, was also on the picket line. He said workers were facing increasingly difficult,t working conditions, saying one worked recently had their ambulance stolen, while others had faced other forms of threats and intimidation on top of a service already struggling with capacity.
"Nobody should have to put up with those kind of things," he said. "It's a matter of priorities for the Government, do they want to properly fund an NHS hit by a decade of austerity, or do they want to concentrate on scrapping the bankers' bonus cap?"
They were joined on the picket line this morning by Councillor Caroline Gruen (Lab, Bramley & Stanningley).
She said: "I clearly support these workers' struggle with an ineffective Government. Workers are finding it difficult to do their duties due to appalling conditions. I've heard stories today of paramedics struggling to do their duties effectively due to a shortage of oxygen and the large areas they are being forced to cover.
"Somebody has to listen to their voice. The cost of living crisis is causing everyone problems and pay rises are not keeping pace."
The government said the strike action was unnecessary, but it had put contingency plans in place.
NHS unions met with Health Secretary Steve Barclay on Monday – but no agreement on pay was reached, with Mr Barclay calling pay demands 'unaffordable'. He tweeted: