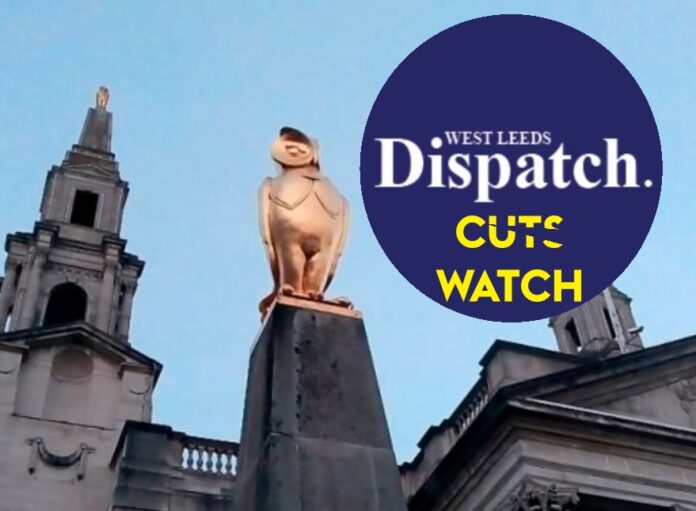 Words: Richard Beecham, local democracy reporter
A senior Leeds City Councillor has warned that "sacrifices have to be made", following the decision agreed in last week's council budget to cut £2.7m of funding for local town centre improvements.
It followed opposition councillor Matthew Robinson (Con) warning members the changes would have a disproportionately damaging effect on town and district centres around Leeds. But Coun Helen Hayden (Lab), a member of the council's decision-making Executive Board, said the support would still exist, but needed to make cutbacks.
Leeds City Council's budget was passed last week, which is set to lead to £87m of cuts and nearly 800 job losses. Senior Leeds City Councillors blame much of the cuts on the loss of revenue and increased demand for services related to Covid-19.
Last month's executive board meeting heard a £150,000 scheme to improve on‐street parking, and provide pedestrian crossing points and bus stops on Rodley Town Street is one of only four across the city to have been delivered in full so far.
As part of the budget was a commitment to reduce to the council's £5 million local centres programme, which saw grants given to help improve smaller business districts outside the centre of Leeds.
Coun Robinson (Con) told a meeting of the council's Investment Scrutiny Board that the council should look again at the plans, adding:
"Many of our town centres are struggling and many of our business districts are struggling.

"I am wondering how they will get back on their feet. This decision on the local centres programme will have a negative impact on our economy and for areas outside the centre of Leeds.

"All districts should benefit. We need to reverse and renew this decision. We need to make sure it is the right decision and help businesses when they need it most."
Coun Neil Buckley (Con) added:
"Some of the wards that have lost funding, such as Roundhay, Killingbeck and Seacroft, and Morley South, it seems a pity that they are being deprived of this funding, when in different documents, we are trying to address it in a different way."
Examples of recent spending by the scheme include the installation of CCTV cameras in Holbeck, repairs to landscaping around Cross Gates roundabout, and a new artspace in Morley town centre.
Coun Hayden, the council's executive board member for climate change, transport and sustainable development, said:
"It is a shame that cuts have to be made to any budget.

"There are very difficult decisions having to be made at this time, but we have been involved in prolonged discussions and the need to make sacrifices.

"All departments, and all parts of our community, are having to make sacrifices at this time in the pandemic. It's the worst crisis in 75 years and, unfortunately, some things have to be hit.

"But we are still committed to the local centres programme – it hasn't stopped. I'm not sure what Coun Robinson wants to get out of this. It seems quite proportional in the way that the money has been allocated.

"We maybe need to look at how we use to money we do have available to help businesses in this post-Covid world."
Projects in West Leeds proposed to progress in the scaled-back scheme include:
Bramley: Shopping parade forecourt improvements at Summerfield Parade and Ganners Hill. Proposed cost: £100,000, to come from Housing Revenue Account Scheme, not local centres funding.
Armley: Detailed scheme to be developed further to support Armley Town Street which serves one of the Council's Priority Neighbourhoods. Reduced ward allocation to generate saving. Proposed cost: £75,000.
Bramley: Forecourt improvements to shopping parade at Upper Town Street. Scheme developed to outline stage based on contribution from adjoining private owners. Reduced ward allocation to generate saving. Proposed cost: £50,000 from local centres funding, £10,000 from private owners.
Kirkstall, Farnley & Wortley and Pudsey Wards are proposed to receive £30,000 in funding. No money has been allocated to Calverley & Farsley ward.
There was no mention at the last executive board meeting of the previously announced £76,000 New Wortley 'Gateway' scheme to introduce green space and public realm enhancements to the corner of Green Lane and Tong Road.
The Scrutiny Board took place on Monday 1 March. The meeting papers and a link to a recording can be accessed here.
WLD is tracking council cuts and building sell-offs through its Cutswatch Series here.
Local democracy matters. Please support community led independent journalism in West Leeds…