After a very successful lights switch on in Farsley on Wednesday night, the following evening saw Rodley hold its first-ever lights switch-on.
Featuring James Wilson from the X Factor and local band the Sillie Billies, and supported by local pubs The Owl and The Barge, hundreds turned out for what many hope will become a tradition in Rodley, writes Jill Buckley.
And the response from local residents was very favourable indeed!
The event was the culmination of a lot of hard work over the past three months by Melanie Brear and her team of volunteers in the recently formed community group Light Up Rodley. The aim of the group is to hold community events throughout the year, raise money for these events and for the community to get to know each other better.
Melanie works in nursing at the LGI and says it has been a steep learning curve in event planning and management! Melanie talked to us about plans for the future:
"We hope to try and do quarterly events, plus helping out the community when and where we can. The memorial gardens is going to be a project for this year. The main company that sponsored us was Hardisty. They said they will support future community events too."
Melanie also thanked everyone who had been involved with the event:
"Thank you to Jessica May Frost, James Wilson and The Sillie Billies. Thank you to all the staff and landlord/lady at The Owl and Barge. Lastly thank you for coming and creating a fantastic atmosphere."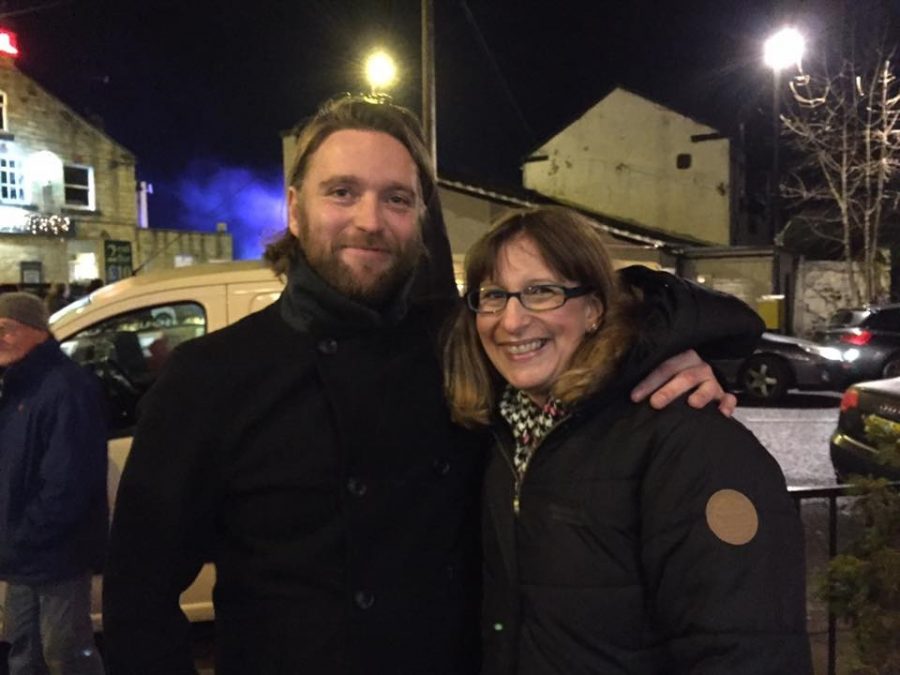 Local schoolgirl Jessica May Frost was a last-minute addition at the event and her voice impressed many at the age of just 11. Melanie Brear said:
"I had goosebumps and hair on my neck stood up. Think she is a name to look out for in the future."
Jane Ingham was also involved in the organisation and spoke of her hopes for the future of the event:
"One of my neighbours said tonight that those of us who live on Town Street should have trimmed our windows for tonight – great idea for next year's Light Up event."
Tracy Haigh posted in the facebook group Light Up Rodley:
"Rodley has changed in the 28 years I've lived here and had lost an element of community however thanks to Melanie we are getting that back. What a great night for the Rodley community, well done Melanie. Watching James from XFactor switch the lights on hope you felt proud. Great to be in the Owl with the Silly Billies too. Lots of spirit in the community tonight."
Faye Wolstenholme added:
"Fantastic evening at Rodley lights switch on, such a lovely community feel. Well done once again to Melanie Joy Brear for organising it. It was so lovely to be part of it and yes I did manage to have a chat, also a pic with the very talented James Wilson!"
Faye also had a stall at the Rodley Christmas craft fayre a few days previously, which was a very popular event, and she raised £116 through her stall for Pancreatic Cancer. The fayre, which took place at the Owl, featured arts and crafts handmade by local people, giving them the opportunity to showcase their talents. £257 was also raised for Rodley lights and tree fund through the tombola, drinks and raffle, with all prizes donated by local business.

Donations are invited to the group Light Up Rodley to fund all of their future activities. If you would like to donate email Lightuprodley@gmail.com.