THE Farsley Rehoboth Baptist Burial Ground was a place of internment from 1785 to 2000 and reflected the growth of Farsley, in particular its textile industry. with many prominent residents buried there, writes John & Fran Barker.
In total there are circa 4,000 local people interred in the Rehoboth all with their own stories and contribution to the growth and history of Farsley.
It covers two acres and is situated off Coal Hill Lane, Farsley, close to the junction with Bagley Lane. For decades there was no access to visit graves (including registered War Graves) without trespass. The neglect to the steep and wooded two-acre site was massive.
In 2019 the charity purchased the Rehoboth as a community asset, commenced reclaiming the graveyard as well as preserving the ecology and landscape.
By the power of both online and offline media we have galvanised the community to take ownership, through their commitment and skills with this unique project with a large number of unpaid volunteers and supporters.
With over 160 work sessions since we obtained access and cut the chains on the gates we have constructed a network of excavated roads to allow all weather and wheelchair access. All materials excavated are re-used for walls and structures.
On November 11th 2019 we held an Armistice Day Service, featured on BBC Look North and have received coverage on numerous media channels.
The "hidden nature" aspect of this site is extensive and fascinating with a wide variety of wild life, birds, foliage and trees.
In order to fund the purchase of the Rehoboth and undertake all the necessary work we have a proactive fundraising strategy.
In addition to donations from attendees to our "Rehoboth Tours" and supporters, our charity has recently been named as the 2019/2020 Charity Partner of the Co-op Community Fund.
We have also received assistance from a number of local businesses and organisations, and without them we would be unable to continue the work.
From April to July we are a nominated Tesco Bags of Help good cause in Tesco, Bramley and a number of Tesco Express stores within West Leeds.
Community support has been vital and to date we have inducted more than 80 volunteers and had over 250 residents on pre-booked tours from September 22nd to October 27th 2019.
Attendees included 90-year-old Doris on her first visit since 1940. We have enabled Jean, aged 78, to visit her mother's grave for the first time eve (see her story, right).
In addition local people have donated everything from water butts, hi-vis vests, six tonnes of hard core and the usage of a JCB.
A key aim from the first day of the reclamation has been to make the Rehoboth fully accessible inside the site, with emphasis on ensuring the main road and tracks are wheelchair compliant.
We have constructed a flood-proof entrance and created a Groundguard to link in the gates to the Victorian Carriage Road.
This work has now extended in creating a newly surfaced track across the full width of the Rehoboth, around 150 yards and the first section has been completed in. This work has been funded by Wade's Charity, and the work and commitment undertaken by our volunteers.
Throughout the summer and autumn there have been at least four weekly work and induction sessions, resulting in 70% of the Rehoboth reclaimed whilst protecting trees, foliage and wildlife.
Several hundred graves have now been "tagged" so that they correspond to burial records and linking to an existing five volume book showing inscriptions back to the 1780's.
This will help family research both remote and on the ground. Last autumn one of our volunteers discovered an overgrown Memorial which paid tribute to a World War One soldier Fred Calverley, who died in a mine attack just off the coast of Malta.
Follow our news on Facebook – @farsleyrehoboth and on Twitter @farsleyof. E-mail: farsleyrehoboth@gmail.com.
Registered Charity Number: 1182468.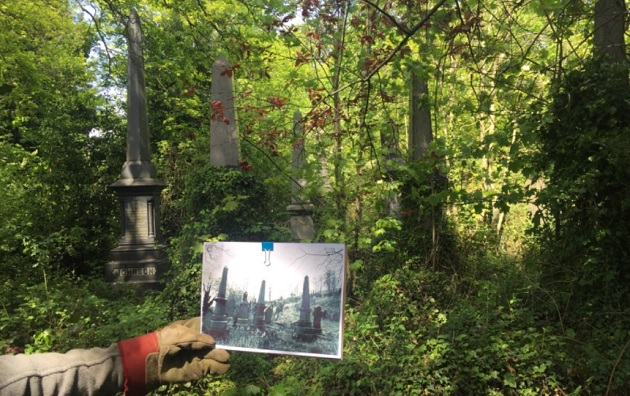 Community spirit making it all worthwhile
"Mn name is Mike Turner and I live on the Isle of Wight with my wife Ann.
"I have been doing family history research on my wife Ann's side.
"She has two half-sisters from her father's first marriage. He had two daughters, Jean and Margaret.
"Unfortunately they lost their mum when they were five and seven. Jean and Margaret were never taken to their mother's grave although they knew where it was.
"Then, of course, the Rehoboth Burial Ground was sold and became a jungle.
This week we visited the site expecting to only be able to look at the gate! Imagine our surprise to see all the work that had taken place and was still under way. I spoke to the volunteers who were working there and explained Jean's situation and that her mum's grave was E23.
"I could not believe they said it was accessible. We donned high viz jackets and were taken to the grave.
"Can you imagine how Jean felt being able to see and touch her mother's grave for the first time ever, at age 78.
"The bonus was her grandparents were also interred with her mother.
2Her sister Margaret is visiting Jean in October and I'm sure she would also like to visit the grave.
"The volunteers at the Burial Ground said they would tidy up the grave and send me a photo."