Wanting to dispose of rubbish in west Leeds this summer? Take our quick fun quiz (below) to test your knowledge of what to do with it…
The correct answers should be pretty obvious! But why exactly are we running this slightly daft quiz?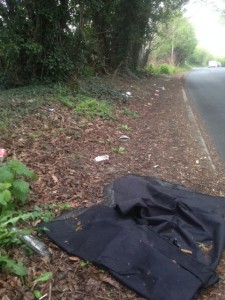 Well, you may remember back in May West Leeds Dispatch featured the plea of a Farnley man who wanted help to clean up his community.
He was angry to see how much dumped/dropped rubbish there was as he walked up Gamble Lane which, if you don't know, is a lovely countrified lane off Tong Road/Water Lane.
Garden chairs and tables, beer cans, empty wine bottles, McDonald's wrappers and goodness knows what else had all been left there. And most of it's still there. And been added to. The windows dumped there the other week were particularly fetching in the undergrowth.
For more info on how to get rid of your unwanted bulky items, follow this link. Or alternatively just take your rubbish home with you.