By Damon Sugden
Saturday saw the Pudsey Toy Swap hosted by the MyPudsey team – and what an amazing success it was.
Pudsey House was full of families with their children exchanging toys and books for most of the day despite the awful weather.
Swapping was easy, all visitors needed to do was bring an item that their child no longer plays with or has grown out of – any good condition toys, books, games, puzzles, costumes and dress up, to help make a Christmas gift from Santa.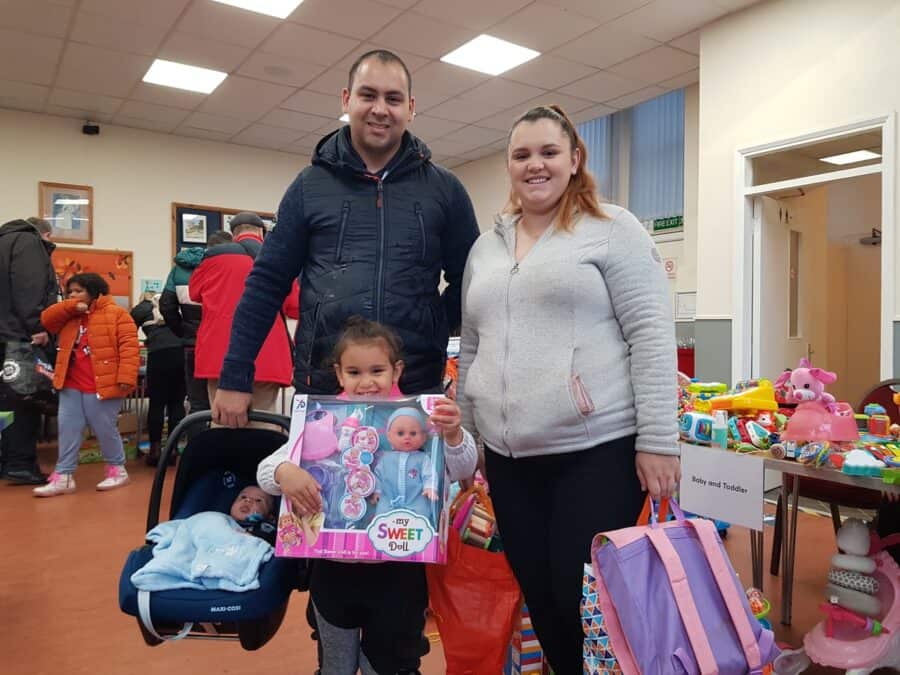 Lisa and family had travelled in from Bradford to swap and donate some toys for Isiah who is five weeks old – he now has some sensory balls for when he's a bit older, and a Christmas day treat for his big sister Aria. 
"It's lovely, isn't it?" commented Lisa.
The children were encouraged to pick something they like the look of to pass to Santa (if they can wait till Christmas morning!)
Harris picked a toy shark and cars ramp – the cars run down the road and have to escape the jaws of the massive chomping shark. His mum, Daniele Johnson explained: "It's great for me as we have twins, so it's twice as expensive trying to buy for Christmas, but also because we have so many toys (that they've grown out of) already. So it's just a really good thing that I feel like I can bring stuff and take stuff and we all benefit.
Harris was really excited to get home.
Mum Daniele continued: "The Pudsey Clothes Exchange is a great idea as well as this – we just used their Christmas jumper exchange.
"We regularly donate clothes there, and again I don't feel guilty because it's swapping and it saves the planet, otherwise you just end up with a load of plastic and a lot of that is rubbish. Here, it's one man's rubbish is another man's treasure – is that the saying? It's true though!"
WLD asked MyPudsey's Hayley Taylor how she thought it had gone:
"It was manic early on, bags and bags of items came in and bags and bags have gone out. We've been donated things that are brand new, others not been touched that are still in wrappers."
The very welcome donations received on the day of £148.56 have been split between: Pudsey Community Project, Swinnow Community Centre and Tyersal Residents' Club's children's Christmas party. Organisers thanked all the contributing families, visitors and the team of volunteers on the day.
The toy exchange was an idea brought forward by Trish Smith, and organised by Hayley Taylor, who are both members of the MyPudsey team, with assistance from Amber and William, Moira and Paul, Yvonne, Wendy, Damon, Glenn, Karen and Steve.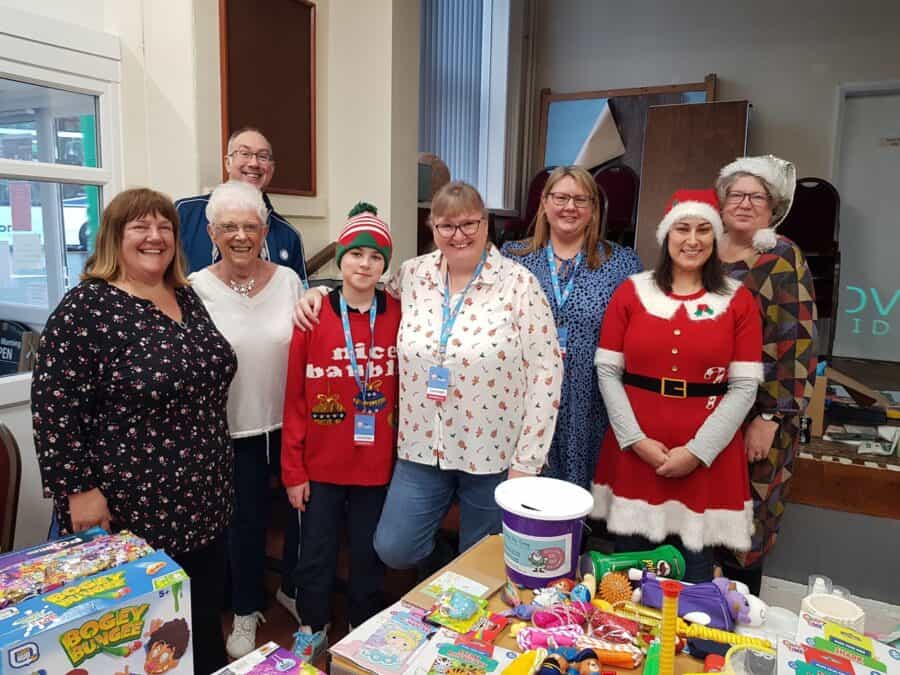 Bake for Books in Farsley
Also supporting the event was Danny Bowley and his amazing daughter Imogen. Danny told WLD about Chef Imogen's bake for books at their pop up this Saturday, located at the Scrap Creative Reuse Art Project 11am until 3pm, Sunnybank Mills, Farsley.
They will be using the donations taken to purchase Christmas gifts for elderly care home residents.
"If anyone is local we would love to see you," added Danny.
"Although we have had to choose just one care home to supply gifts to, we have decided to launch a local Christmas card appeal to get cards to other care homes in the area.
"We have set up a few drop off points and left a box at the MyPudsey toy swap. We collected over 40 cards to give to residents at the toy swap, so amassive thanks to everyone that left a card!".
Pudsey Christmas Quiz 2022
On Saturday, 3 December, the MyPudsey team are taking over The Ballroom at 147 to kickstart the Pudsey festive period with a bang.
With legendary Pudsey quizmaster Raz taking over the speaker system, and a couple of guest rounds from two other members of the Pudsey quizzing elite – Rich Hod and Sam – the evening looks set to be a fantastic one.
Tickets are £2.50 each, with profits going to Pudsey Wellbeing Centre and the Alzheimers Society.
For more details please visit the MyPudsey website.
Sponsored content