Words: John Baron
Leeds council is planning to breathe new life into an unofficial car park on waste land next to Pudsey Parish Church by replacing it with planting and a commemorative installation marking the Queen's platinum jubilee.
But some local residents and businesses are objecting to the proposals, saying the proposals will increase parking problems for nearby residents and businesses. A petition with almost 200 signatures has been collected and handed into the council.
Each council ward in Leeds has been allocated £50,000 by Leeds council as part of a programme to support local town centres.
The proposal for Pudsey features an area at the junction with Church Lane and Radcliffe Lane, which has been used as an informal and unadopted car park for around 40 years, and add planting and low-level planters.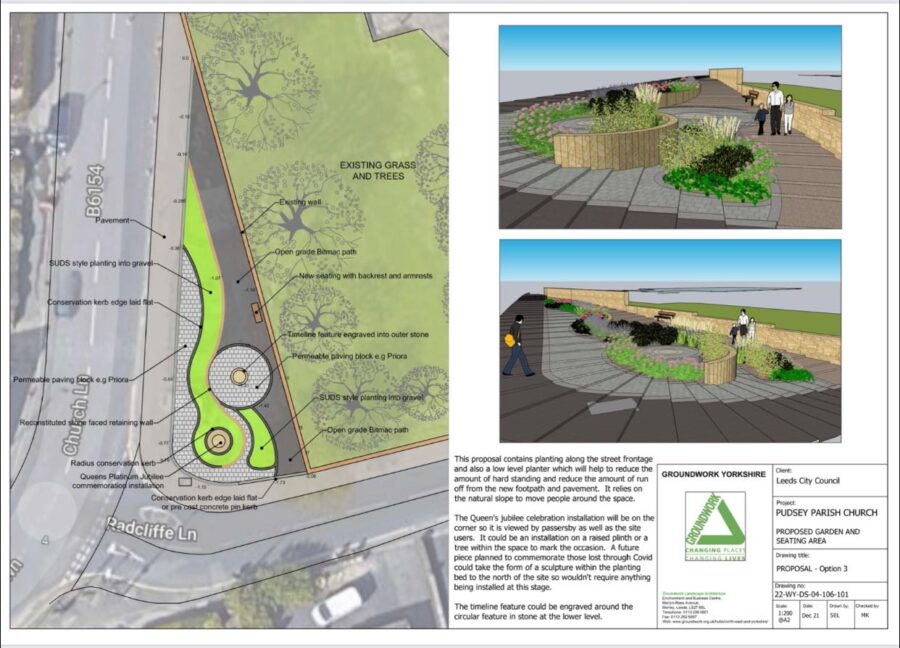 A commemorative installation marking the Queen's platinum jubilee would be installed, alongside a timeline feature. A bench would also be included on the small patch of land, which would be maintained by volunteers from the Pudsey in Bloom group.
Council planners say the scheme would improve the look and feel of an 'unloved' piece of land and add greenery and biodiversity. They say:
"The Queen's jubilee celebration installation will be on the corner so it is viewed by passersby as well as the site users. It could be an installation on a raised plinth or a tree within the space to mark the occasion.

"A future piece to commemorate those lost through Covid could take the form of a sculpture within the planting bed to the north of the site so wouldn't require anything being installed at this stage."
Council documents say the plan is to deliver the scheme for the middle of May. A public consultation, which originally ended on Monday, has now been extended by the council until Monday, 6 May.
But the proposals have concerned some local residents and businesses.
Tom Donnelly moved to the area 36 years ago and fears the potential loss of the informal car park, which holds around eight cars, will cause 'utter chaos' on adjoining roads. He told WLD:
"The land has been used as informal parking for 40 years and will have an impact on parking on our streets and on local businesses in the Chapeltown area. People use those spaces to attend weddings and funerals at the church or go to local businesses, which are already struggling. People use it to drop their kids off at the school and pick them up. It's just going to displace traffic into residential streets."
Mr Donnelly said there should have been more consultation earlier in the process.
The petition also suggests the money should be used to improve nearby Sparrow Park instead.
Gary Hood is the owner of 147 Sports Bar. He said the proposals would create a problem for staff and customers at the nearby parade, which include a restaurant, bar, nail salon, takeaways and a small Sainsbury's.
He said: "Every parking space taken away in the area has an impact on businesses. The latest proposals have come as a bit of a nightmare to be honest."
Pudsey Parish Church warden Eric Hudson said only a small number of church attendees used the land outside the church for regular services and there were often other cars already parked there. He personally felt the land, which is not owned by the church, would be improved by the proposals.
Pudsey councillor Simon Seary (Cons) has been championing the scheme over the past three years. He said:
"In 2019 we met with the council's highways dept to see what we could do with the waste land site and we looked to see how we could improve the area that sits in the conservation area between two important landmarks, Pudsey Parish Church and Pudsey Cenotaph.

"Unfortunately, the highways dept will not allow the land to be turned into a formal car park due to access issues onto Radcliffe Lane and Church Lane and vehicle movements on the land. We then explored other possibilities and asked the council's regeneration team to design a project using the local centres programme funding and this is where we are today.

"I asked the council to carry out a public consultation on the proposal in order to be transparent and I'd encourage people to follow the correct process and submit their thoughts to the council.

"The proposal will tidy up an area which is not and will never be a formal car park. There will be a slight movement of cars and disruption to the small number of local residents who park there."
A Leeds City Council spokesperson said in a statement issued to WLD:
"A number of responses to the consultation have already been received and we will remain open to comments until Monday, 6 March so that further views can be taken into account to inform the next steps with this proposal."
Pudsey folk have been posting their reactions to the scheme on Facebook. One resident posted: "Yes! This will make that corner so much more attractive and make a lovely place for the church to have outside." Another added: "It will look so much better as it's just a piece of uncared-for land that is very visible to everyone who walks or drives into Pudsey that way."
Another was less impressed and questioned why someone would want to sit in an area close to two busy roads.
Have your say
Responses to the proposed scheme can be submitted until the end of Monday, 6 March 2022 via e-mail to Wyn.Jones@Leeds.gov.uk.