An event in Pudsey will put litter louts, fly tippers and inconsiderate dog owners in the firing line.
The event is being held in the run up to Keep Britain Tidy's March GB Spring Clean campaign to get half a million people out and about cleaning up their local communities in March 2017.
It builds on the likes of Pudsey Litter Action, a group of local residents who organise regular litter picks to keep their community tidy, and volunteers at Team Kirkstall, who led the clean up following the Boxing Day 2015 floods in Kirkstall last year.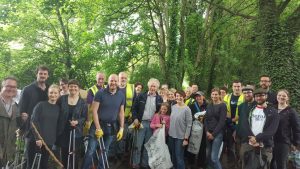 Councillor Lucinda Yeadon, deputy leader of Leeds City Council, saw the community in action in Kirkstall. She said:
"There's loads of people across the city who not only want to see the city clean, but are also prepared to spend a little time and effort playing their part to make sure their community reflects the pride they have in it. We can all do a bit – it can be a great way to meet other people locally and just spending an occasional half hour can make a difference.

"Every pound less we have to pay as a council to clean up things is a pound less we have to raise through council tax. So everything we can do to make the city cleaner means it is better for everyone, with cleaner streets, parks and neighbourhoods, as well as less resources wasted because thoughtless people fly-tip, drop litter or don't clean up after their dogs."
The meeting will be held in Pudsey Civic Hall, at Dawsons Corner, on February 23.
Anyone interested in organising clean-ups or litter picks in their community can register their interest, or e-mail cleanleeds@leeds.gov.uk or call 0113 3787888 during office hours.