This years Armed Forces Day was marked in Pudsey with a weekend-long event being hosted by the Royal Hotel, writes Damon Sugden.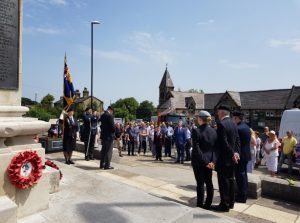 Two full days of live music featured many local favourites including The Avros, Celtic Cowboys and Cook 'N' The Stew.
Guests of honour were Lyn Rigby and family, mother of murdered Fusilier Lee Rigby.
There was a well-attended service of Remembrance at Pudsey Cenotaph, with a march back to the Royal Hotel,. Lyn Rigby and Stuart Andrew MP took take the salute.
Not only did the event acknowledge and celebrate the contribution of our Armed Forces, but it was also fun for everyone attending. So far the event has raised more than £4,300 that will go towards the Lee Rigby Foundation, the 14th/20th King's Hussars Memorial Fund and The Poppy Appeal.
Event co-organiser Frankie Reid of the Royal Hotel also completed a sponsored parachute jump for the event.
West Leeds Dispatch asked Darren Walker, event co-organiser, and formerly of Kings 14/20th Hussars:
What does Armed Forces Day mean to you?
"As a serviceman it means the world, its the only day of the year where everybody recognises everyone within the Armed Forces, and acknowledges what they did and obviously what they have done for their Country. It's a great chance for people to say thank you and an opportunity for people to stand up and be counted."
Lyn Rigby, mother of Fusilier Lee Rigby, spoke about Armed Forces Day and her own fundraising for the Lee Rigby Foundation. She said:
"Danny Dance (President of Pudsey & Farsley Royal British Legion Branch) got in touch with me and invited us over (to attend Pudsey AFD), which I thought was amazing.

"We've arrived today and we've been overwhelmed with the fantastic support and the welcome we have been given, it's been absolutely out of this world. Lee would have loved this today, and we've loved it as a family.

"We should remember our fallen, and its carrying their names forward do that they are never forgotten."
About her fundraising work for the Lee Rigby Foundation, she added:
"Our fundraising is now for static caravans for bereaved families and the veterans, on a holiday site that's inclusive for children, so that's what we are aiming for at the moment.

"We've spoken to the bereaved families and this is what they've wanted, they want the caravans and something onsite for kids to do as well as some of the bereaved have young families. It will be a caravan site somewhere, all facilities will be free, they will just need to bring their own food.

"It's good for them to get away, so they can have happy memories.

"When Lee died we were not able to get together and grieve as a family because it was in the news so much. So this is what we wanted to do, give something back and keep Lee's legacy alive."
The event organisers would like to thank everyone that helped set up and run the event, the bands, Lyn Rigby & family, members of the Kings 14/20th Hussars, Stuart Andrew MP, Councillor Trish Smith, Councillor Simon Seary, Dawn Seary, Diane Seary, Tomas Seary, The Band of Pudsey Air Cadets (2387 Squadron), The Pudsey Poppy Display, members of West Yorkshire Fire Brigade, Paul Mann, all the staff at the Royal, ITV Calendar News and everyone who came along and enjoyed the weekend at the Royal Hotel.
Apologies to anyone who contributed but hasn't had a direct mention but rest assured your time was valued!