Leeds City Council has performed a U-turn and SCRAPPED troubled plans to expand Greenside Primary School in Pudsey – more than two years after the proposals were first announced.
The council had originally hoped to expand capacity at the school from 315 to 420, with an increase in admission numbers from 45 to 60 in order to meet with increased demand. The expansion was originally due to come into effect from September 2017.
But last July The Dispatch reported how the plans could leave Leeds City Council with a bill £1.8 million higher than originally expected, at around £4.3 million.
And earlier this week we reported how more than 40 local residents had objected to plans for a multi-use games area on green space on the reorganised site.
A letter sent to parents by the council on Tuesday said:
"In the past two years the demand [for places] identified previously has changed and the pressure on school places in Pudsey has shifted due to changes in the way parents preference schools in the area, along with the movement of some school-aged children out of the area.

"In light of the above, the council has decided not to progress with permanent expansion."
The letter, printed below, says the school will enrol up to 60 pupils each year for three years from 2017, who will be housed in temporary accommodation, before returning to the usual number of 45. The school, however, says it has not yet agreed met with the council to agree to this.
The council will continue to seek planning permission for the multi-use games area at the Chapeltown site, which would not be floodlit.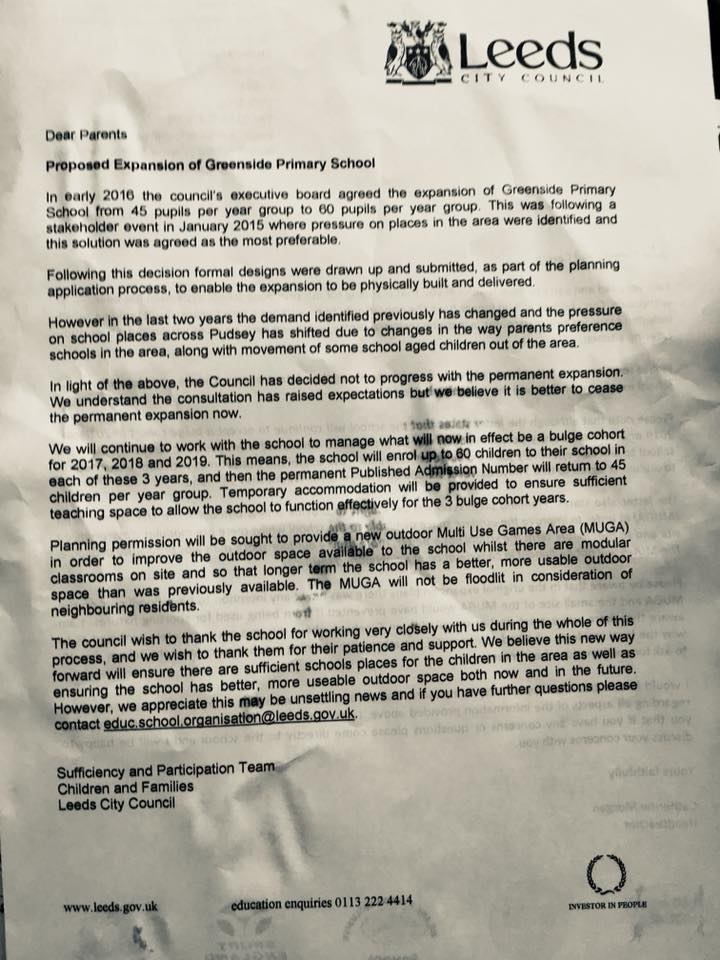 On Tuesday, parents were also sent a letter from Greenside headteacher Catherine Morgan, who labelled the decision 'sad'. She wrote:
"Our children will no longer have the opportunity to experience a new purpose-built building, which included plans for new classrooms, a learning resource centre, extensive early years provision and a beautiful catering kitchen."
Plans for the school had included
Remodelling of the reception classes.
A new two storey extension which will include five new Key Stage 2 classrooms and group space and toilets.
Demolish and rebuild the existing 1970s extension to create a new kitchen.
Remodelling of circulation to make a more logical flow through the school.
What do you think? Have your say in the comments section below.