A campaign to create a greenway on a former railway line linking Pudsey to Tyersal is looking forward to a busy 2022.
A greenway is a long piece of land, or path, where vegetation and slow travel are encouraged. The Greenside Greenway group wants to create a greenway for use by walkers, runners, cyclists, and horse riders in Pudsey.
It's aiming to fund a feasibility study into the costs and practicalities of the construction of a greenway path, available for cyclists and walkers through historic Greenside Tunnel.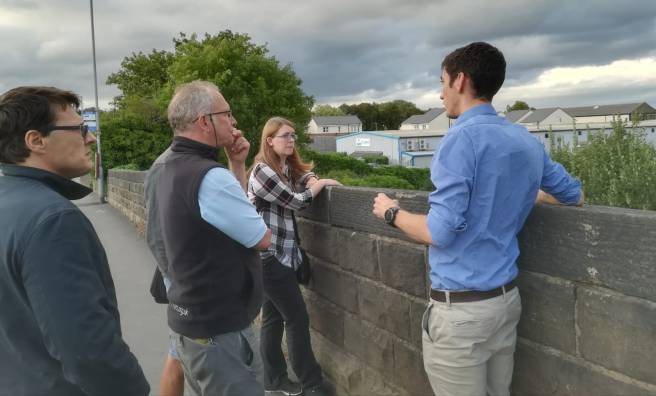 The group wants to eventually link the Greenway to the Leeds Cycleway at Stanningley, and to the Spen Valley Greenway at Oakenshaw, by constructing a Greenway linking through Tyersal, Holmewood and Low Moor railway station.
Since March 2020 – and despite the pandemic – the group has arranged litter picks of the route and held a guided walk attended by 25 residents. A self-guided route plan has been produced and they also intend to produce a detailed map with help from a local illustrator.
In its annual report, the campaign adds:
"Due to Covid we had to cancel our planned 'Light at the end of the Tunnel' music evening at the Royal for which we had four local bands lined up. We are in the process of re arranging this.

"We are in process of finalising content for proposed new heritage display stands. We have identified places near the former rail station sites at Lowtown and Greenside and, if enough funding is raised, we'll provide a bench seat at each site."
The Greenside Greenway campaign has met with the West Yorkshire Combined Authority and Leeds City Council in a bid to get the route on the next batch of Walking and Cycling Infrastructure plans. The report adds:
"There is a hold up as the future plans for Rapid Transport for West Yorkshire (RTWY) have not discounted using the Greenside Greenway route. Spen Valley Greenway is also a suggested RTWY route.

"At the same meeting, it was suggested we consider progressing the Stanningley to Mount Pleasant Road – Carlisle Road phases first, as most of the route already has access, is not as expensive and has minimal land issues. We will need funds for a feasibility study to progress this."
Membership for supporters of Greenside Greenway group is free and there are now more than 60 supporters.
Committee meetings are held monthly at the Royal Hotel. The current committee is made up from people local to Pudsey: Chair Andrew Jarosz, vice chair Gary Lemal, secretary Martin Stanley, treasurer/publicity David Dowden, and membership secretary Andy Wilson. Other committee members are: Lee Carter, Chris Dunford-Kelk, George Dyker, Denise Hanson, Judy Wardle and Charlotte Hobson.
The full report can be downloaded here.