Words: John Baron
York and Whitby may be famous for their ghost walks – but the town of Pudsey is set to challenge the status quo with some spooky tours of its own.
Volunteers at MyPudsey.co.uk put their Hallowe'en lanterns and witches' hats on and brewed up a spinechilling tour of their own.
There are plenty of ghost stories in the Pudsey area, including the infamous Grey Lady at Fulneck, but the four-strong team have chosen the Chapeltown area as it has several atmospheric sites with creepy tales attached.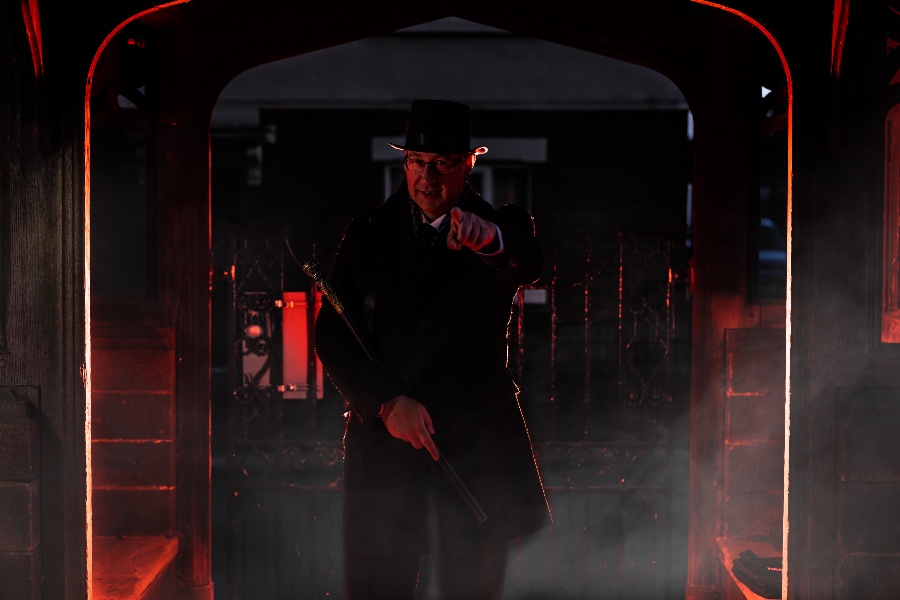 This includes Pudsey Parish Church, a dilapidated lost chapel and a spooky railway tunnel. There is a whole world of history at the Parish Churchyard in its old
Much of the tour history relates to the old Chapel of Ease, which was where the Cenotaph proudly stands now.
All proceeds of the walks, which cost £5 per adult, are going the the Pudsey Community Project, which offers support to people in need in Pudsey.
One of the organisers, Glenn Taylor, said 80 people have signed up for the walks on  Friday 22 October, Saturday 23 and Sunday 24.
"People have had a difficult time in the past 18 months, it's been a struggle and we wanted to put something on that ewers fun, but also told something of the rich history of Pudsey – and raised much-needed money for such a good cause like Pudsey Community Project.

"The past 18 months have seen so may negative headlines and we wanted to do something positive, outdoors and safe for people to do. We're really pleased so many people have booked on."
There idea for the walk followed the successful Leeds Heritage Week tours around Pudsey Cemetery, which were run by Pudsey historian Damon Sugden. Mr Sugden will be leading the ghost tours around Pudsey under his pseudonym of 'Dr Skullsaw Sugden'.
During the COVID-19 pandemic Pudsey Community Project has been a beacon of hope for many people unable to leave their homes for medical reasons, delivering weekly packages of food and necessities. They also run a foodbank and the Children's Clothes Project alongside much more.
MyPudsey exists to serve the residents, businesses and visitors of Pudsey by helping to provide up-to-date business information, job listings, event listings and town information. It's run by Glenn and Hayley Taylor, Damon Sugden and Trish Smith.
As WLD went to press, there were a handful of places left on one of the tours – more details here.