Cakes! Christmas! Members of the Pudsey and West Leeds Clandestine Cake Club met in Farsley for their annual Christmas party – here are excerpts from Sharon Clarkson's blog post on the event.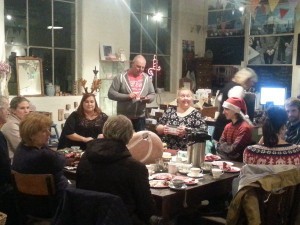 We met at Sunny Bank Mills in Farsley in the Gallery. Wow! What an amazing space. A huge thank you to Jane for opening up especially for us. The Gallery is full of works of art as you'd expect but lots of wonderful gifts, to suit every pocket. Handmade items, toiletries, jewellery, furniture, a million other items and even kites! Everyone should have a kite in their car boot as you never know when you'll want to fly one!
The Gallery serve drinks and homemade cake so why not pop in and have a cuppa and a look round this fantastic space. You might just finish your Christmas shopping while you're there!
Back to the cakes…
The cakes that attended on the night included: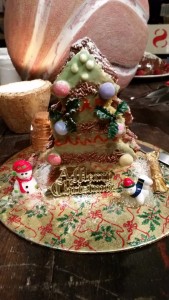 A great night was had by all in this amazing venue. Thank you so much for having us. I loved that everyone had on their Christmas jumpers or Santa hats, I went with reindeer antlers!
Opening Hours:   Tuesday to Saturday 10-4pm     Sunday 11-3pm
Email:  arts@sunnybankmills.co.uk