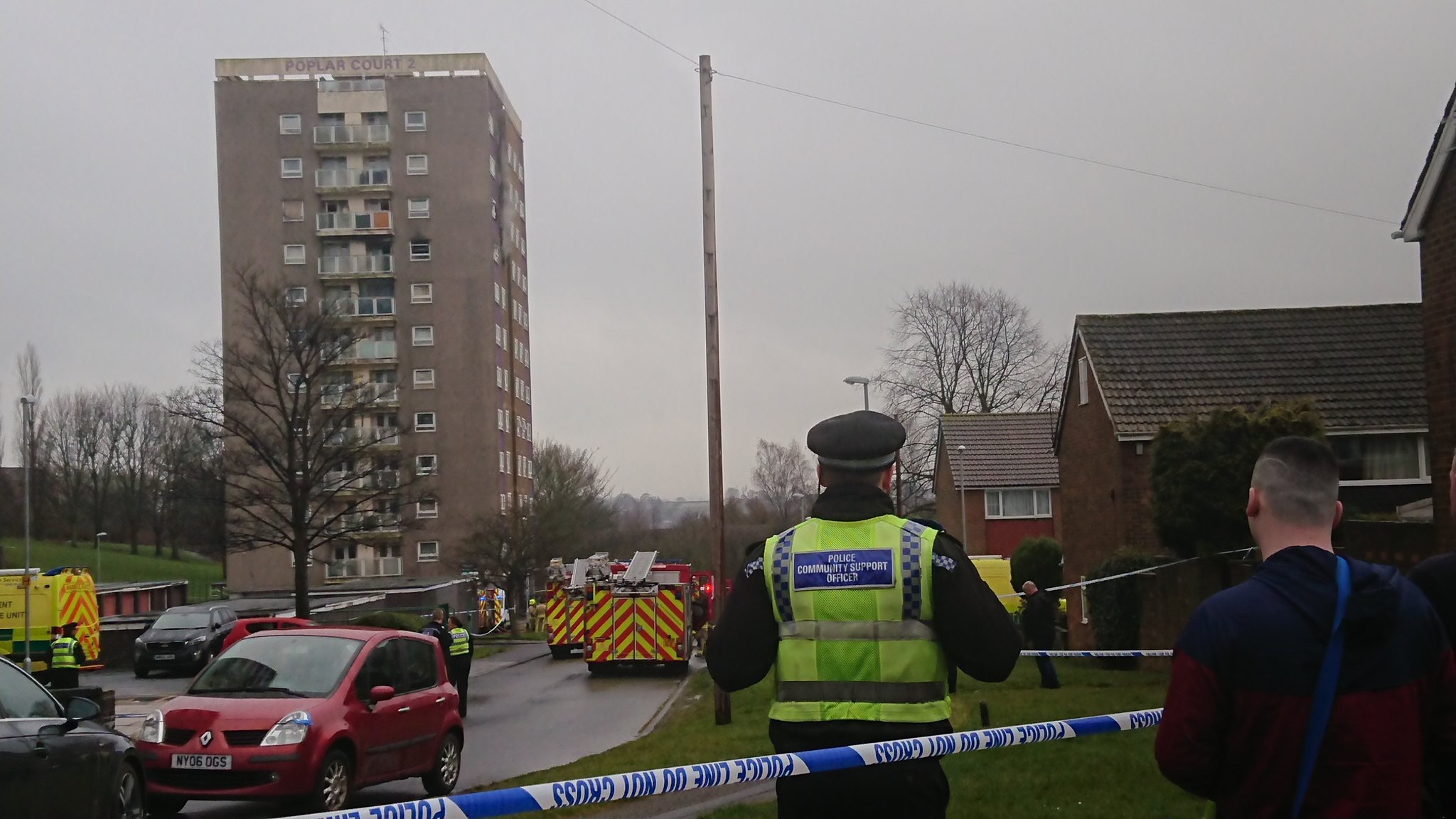 Three people were taken to hospital with smoke inhalation this morning following a fire on the eighth floor of a high rise block in Bramley.
There were no other reports of injuries after the blaze was reported at 10.30am today at Poplar Court 2 in Bramley.
The fire service, which sent six appliances to the blaze, says the fire is now under control but three appliances remain on the scene.
They say all residents were evacuated safely.
Updated 2.30pm: A West Yorkshire Fires Service spokesperson said:
"Two fire engines remain at the scene.

"The Fire Service is assessing the damage with Leeds City Council and whether anyone needs to be rehomed following the fire.

"A fire investigation officer is on the scene looking into the cause of the fire."
We have now scaled down to 2 fire engines at the incident in #Bramley @WYFRSFireInvest are working to investigate the cause 🔎 pic.twitter.com/HvvYwYRVvH

— West Yorkshire Fire (@WYFRS) March 27, 2018
Leeds West MP Rachel Reeves also issued a statement offering her support to residents today. She said:
"My thoughts go out to residents in Poplar Court after the very worrying fire reported earlier this morning.

"I would like to thank the emergency services for their swift response in tackling the blaze and for ensuring the safety of local people living in the high rise blocks, and surrounding houses in Bramley.

"Whilst a full investigation in to the circumstances of this fire must be carried out, I want to assure local residents that I am doing everything in my power to support them after this incident, and that I will continue to fight for improved fire safety in all high rises."
Update 5pm: A Leeds City Council spokeswoman said the fire was as contained to one flat and the block had been reopened again. She said:
"The fire at Poplar Court has now been extinguished and was contained to one flat. We would like to thank the emergency services for reacting and dealing with the incident so quickly."
There's had been some criticism from some residents that they had not heard a fire alarm. The spokeswoman said:
"As with the national fire strategy for high rise blocks, in Leeds we have standalone alarms in each flat to allow for fires to be contained in the most efficient and safest way possible – as can be demonstrated by the outcome of today.

"We want to reassure people living in high rise blocks across the city that we have the relevant fire safety mechanisms and checks in place and will monitor and check buildings regularly."
Fire at #Bramley #Leeds today started in a bedroom on the 8th floor. Due to the severity of the fire and the room being totally destroyed, an investigation into the cause is proving difficult. @WYFRS pic.twitter.com/smEpSaRG6i

— WYFRS Investigation (@WYFRSFireInvest) March 27, 2018