Traffic problems at Stanningley Bottom are now WORSE then they were before, according to some West Leeds Dispatch readers.
A Dispatch poll which closed last week saw 87% of readers who voted said the Stanningley Bottom road changes were not an improvement. Only 8% said they had improved road safety.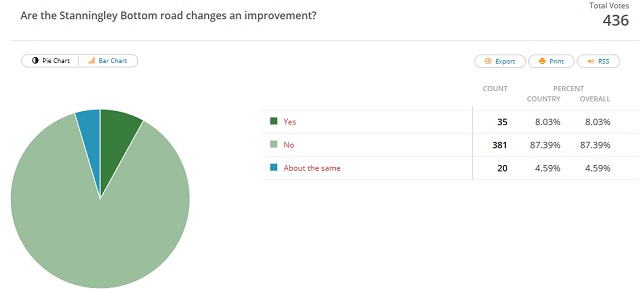 The changes follow a long-running community campaign to improve road safety following changes to the road layout as part of the multi-million pound CityConnect cycle superhighway between Leeds and Bradford.
There was a total of 436 votes.
As previously reported, changes in the road layout have proved unpopular with some on social media.
How are you suppose to get arround a bus when it stops pic.twitter.com/gzW0R46ZV8

— DPawsonGas (@DpawsonGas) December 17, 2017
Highways chiefs hope the work will address road safety concerns over mini roundabouts – known as roundels – which were installed last year as part of the multi-million pound City Connect cycle superhighway linking Bradford and Leeds.
Work, which started last month, includes textured over-run areas, together with a larger central margin in middle of the road.
More than 100,000 trips were recorded on the Cycle Superhighway between June 2017 and February 2017.