Motorists are being reminded to expect delays as work is carried out on both Armley Gyratory and Stanningley Bypass next week.
Armley Gyratory
From 8pm on Monday 24 July until 5.30am on Thursday 24 August there will be daily night-time partial closures around the Armley Gyratory for surfacing works.
Council chiefs say the highways surfacing works will mark a significant milestone towards phase one construction completion, after the work started in April last year.
The partial closures are planned to coincide with reduced levels of traffic during the school summer holidays.
Full diversion routes will be in place during this period and can be found on the Armley Gyratory project page.
The road will re-open during the daytime with 30mph speed limits and other traffic management measures in place to allow improvements to be carried out safely.
To prepare for these partial closures, drivers are being urged to plan ahead before travelling and to sign up for regular e-mail updates or follow Connecting Leeds on social media.
The Armley Gyratory works are complex and the work areas have been segmented into seven parts, as work progresses clockwise around the gyratory, with a total of 19 phases of activity. This includes planing the existing carriageway, ironworks, laying binder, tarmac surfacing and associated white lining. Because of the scale of the road surfacing, with different work areas and days, it will need different diversions and local access plans.
For impacted bus services see WY Metro buses for the latest timetables.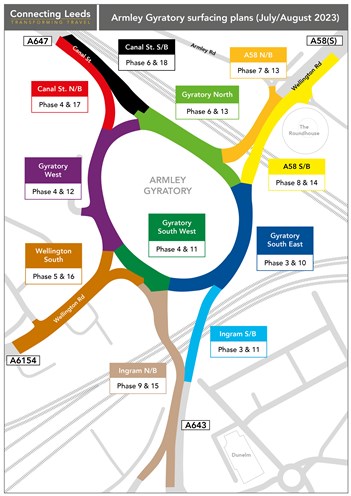 Stanningley Bypass works and diversions
Works will also take place on Stanningley Bypass during the school summer holidays, with reduced levels of traffic allowing the works to progress as quickly as possible.
From 8am on Thursday 27 July until 6am on Monday 21 August 2023 roadworks will take place along the Eastbound A647 Stanningley Bypass. The traffic management will be set up 24/7 between those dates.
Work will require a partial closure of the bypass and some of the access/slip roads, with local diversions. A contraflow system (between Dawson's Corner roundabout and Swinnow Bridge) will be in operation.
These planned works are part of Leeds City Council's highway annual maintenance programme and follows last year's Westbound joint and resurfacing programme.

Sponsored content