By John Baron
Parks improvements in four council wards in West Leeds could form part of a £20 million council bid for cash from the government's 'levelling up' fund.
A public meeting to relaunch the Friends of Stanningley Park community group heard that council officers were working with local councillors and 'Friends of' groups to formulate the bid, which was likely to be submitted to the government next month.
The meeting heard that Stanningley Park, Western Flatts Park in Wortley, Armley Park, Bramley Falls and Kirkstall were the parks currently being considered as priorities for the potential cash injection and that the council is hoping to gain around £20m of funding.
It's understood that the bid, which will be focussed on the Leeds West parliamentary constituency, would also include funding to help regenerate Armley Town Street.
The 'levelling up' funding application, which is still being finalised and worked on, would focus around the Armley, Bramley & Stanningley, Farnley & Wortley and Kirkstall wards. The government's deadline for new funding applications is next month.
Any bid would first need to go before the council's decision-making executive board for approval.
Last night's public meeting, which was attended by around 20 people, heard that the funding for parks would have a positive knock-on effect and help regenerate wider communities.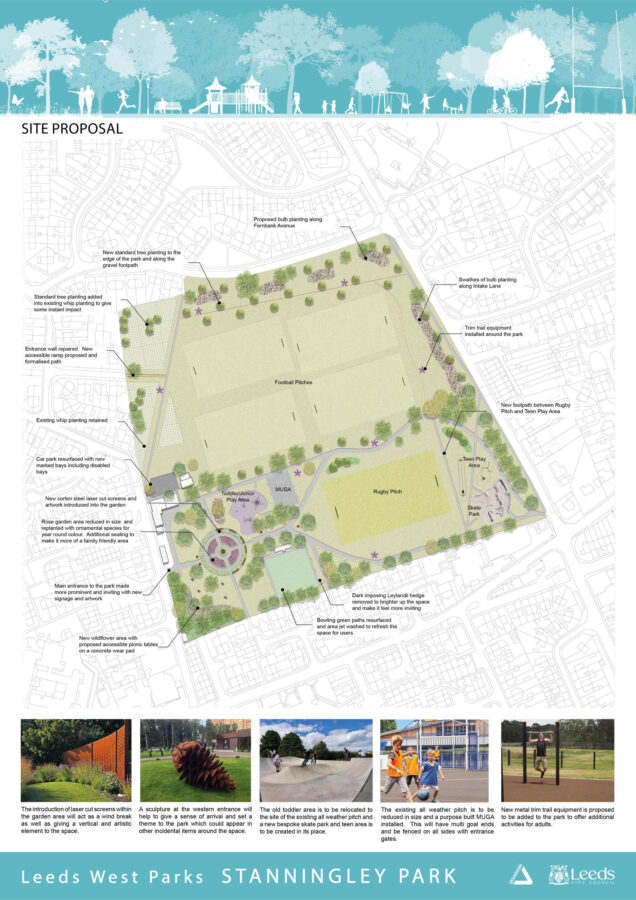 The meeting was presented with initial ideas of how Stanningley Park could be improved, with an expanded area for teenagers, a skate park, family picnic area, refurbished rose garden, a new entrance and other improvements. If the bid is successful, a full public consultation would be held on any parks improvements.
A representative from Rachel Reeves MP's office also attended the public meeting, which was held at Stanningley Primary School.
The £4.8 billion Levelling Up Fund invests in infrastructure that improves everyday life across the UK, including regenerating town centres, upgrading local transport, and investing in cultural and heritage assets.
Last year, Leeds City Council successfully applied for £20m of travel and environmental improvements to the outer ring road between Horsforth, Rodley and Pudsey, including a new footbridge at Rodley. The bid was in Stuart Andrew MP's Pudsey constituency.
A separate bid for a health and wellbeing centre at the site of the former Fearnville Leisure Centre in Leeds East constituency was refused by the government.
Friends meeting
The Friends meeting saw residents agree in principle to set up a volunteer-led Friends of Stanningley Park group to help improve, promote and bring investment to Stanningley Park. Roles of treasurer, secretary and chair will be appointed at a future meeting.
There was a feeling among residents that Stanningley Park had become run down and was in need of a number of improvements and increased ongoing maintenance.
The meeting was chaired by Councillor Kevin Ritchie (Lab, Bramley & Stanningley), with Cllr Caroline Gruen alongside him. He said the park had last year benefited from improvements to the footpath and new security fencing to stop quad bikers.
It was suggested the Friends group could help organise events like litter picks, activity days
Concerns were expressed by attendees that some of the 4,050 tree saplings that were planted last year had either died or suffered from vandalism.
Parks technical officer Thuja Phillips said that if more than 20% of trees had been lost then the trees would be replaced and fencing placed around them.
She also pointed to the recent successful fundraising efforts of the Friends of Hainsworth Park in Farsley. Work has started this week on a new play area at the park following a fundraising campaign by volunteers and Ms Phillips added:
"The Friends of Hainsworth Park are a good example of how people have come together and it's led to something really positive. Friends groups give communities a sense of ownership of their parks."
Funding for parks has not been classed as an 'essential' service by the council, and any improvements tend to come mainly from money from housing developers which has been allocated to green space provision in the area.
One attendee branded Stanningley Park as 'an absolute disgrace', citing problems with broken glass in play areas and dog fouling as issues. Another pointed to problems with football teams leaving litter behind on match days.
Alyssa Randell, who is looking to increase community participation at Stanningley Park Crown Green Bowling Club, also spoke about the benefits of playing bowls.
Anyone interested in joining the Friends of Stanningley Park group can contact Cllr Ritchie on kevin.ritchie@leeds.gov.uk.