A campaign to help restore a decaying historic chapel at the heart of Pudsey Cemetery has been launched with more than 60 people attending a packed public meeting.
The meeting saw the launch of the Friends of Pudsey Cemetery and Chapel group which aims to promote, improve and protect Pudsey Cemetery.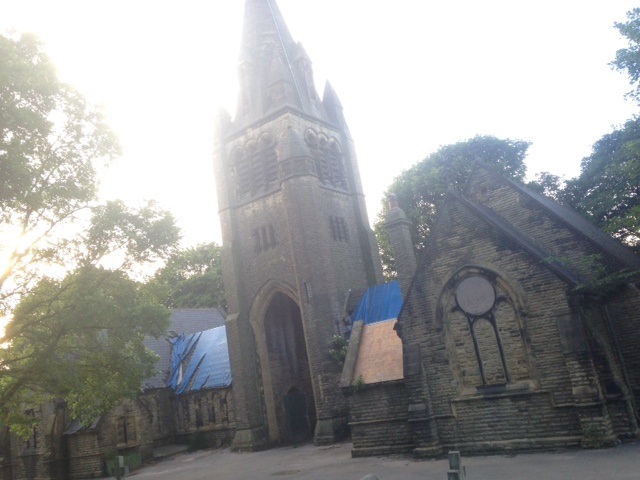 The group will help maintain and tidy the cemetery through events such as litter picks – but its main challenge will be the restoration of the historic chapel at its heart.
As reported by the Dispatch last month, the historic building has suffered from neglect and vandalism since it closed more than a decade ago. The building, which dates back to 1875 and houses two chapels, has large sections of its roof missing and has shrubs and trees growing from the masonry.
The Friends group is aiming to take the building into community ownership, with early ideas ranging from opening a heritage centre, a community café and meeting space, a flower shop or perhaps linking up with an undertakers or stone masons.
By registering as a charity, it's hoped the group will be able to access funding from places like the Heritage Lottery Fund, to help restore the chapel.
Pudsey resident Damon Sugden helped organise the meeting at St Andrew's Methodist Church Hall. He said:
"Together I believe we can make a difference. It's important we preserve the town's heritage and history."
The group, which elected a committee at the meeting, also gained the support of Chris Simpson, from Leeds City Council's bereavement services department which runs Pudsey Cemetery. Mr Simpson said:
"We don't have as much money as we used to do and we don't have the resources I would like. There are Friends groups across the city that are well run and organised voluntary groups that can give us more than labour … that can help access funding that we cannot get. The efforts they put in are much appreciated."
The meeting was also attended by councillors Mick Coulson and Richard Lewis (both Lab, Pudsey). Cllr Lewis warned that the challenge wasn't just restoring the 'bricks and mortar'of the chapel but finding a sustainable use for the building and added:
"It is a huge challenge."
The Friends group already has its first events lined up. A history tour around the cemetery led by Pudsey Civic Society will be held on August 16, there will be a litter picking day later that month and a ranger-led activity day on Saturday October 7.
Keep up to date with the Friends group on their Facebook page.