West Leeds Dispatch readers say they support ambitious plans to revitalise the Owlcotes Centre in Pudsey – despite an influential civic watchdog group lodging its objections.
More than 700 people voted in our online poll asking whether they supported outline plans to build a parade of non-food shops at the back of the car park and two drive-through restaurants near the entrance to the Owlcotes Centre.
Almost 79.5% of respondents to the poll said they supported the plans.
But influentiual watchdog organisation Leeds Civic Trust has objected to the scheme, saying it opposes the development of out-of-town shopping centres and raised concerns about traffic and transport to and from the site. The Trust said:
"While acknowledging that we are still at the concept stage, a much improved railway/mass rapid transport scheme between Bradford and Leeds has been stated to be desirable, which will require four-tracking or equivalent past this site. In addition, the park-and-ride capability of New Pudsey station may be enhanced by both additional parking space extending to the Asda parking, and also by improved access/egress using the Owlcotes Centre roadways.

"For these reasons we believe the proposed development would negatively affect the ability to supply the transport
infrastructure needed for the City of Leeds in the future."
The Trust said it is opposed to the concept of further out-of-town shopping centres and added:
"Although this proposal is relatively modest, once a precedence has been set, there is ample space to create a much larger retail/leisure complex, which we feel will then have a significant impact on the nearby local centres."
Asda argue there would be minimal impact on neighbouring retail centres in Pudsey, Stanningley Bottom, Bramley, Armley and Horsforth.
Their plans are for a non-food retail parade or a gym at the back of the existing 'under-utilised' car park where the bottle banks are. The plans include a new 89-space car park.
Initial plans say the building could be split into three units – but Asda say it could ultimately be occupied by one tenant or several occupiers within a parade-type format. Their preference is for retail, but Asda say the building would also be suitable for a gym.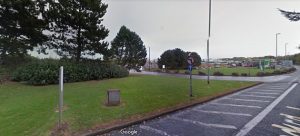 Marks and Spencer say their plans for two restaurants would employ around 30 people and would be based on grassland and a landscaped area near the car park entrance and existing petrol station.
The applications form an outline masterplan to strengthen the position of the Owlcotes Centre in the face of increasing competition from other retail developments in west Leeds, including the nearby Belgrave Retail Park in Stanningley.
The Dispatch originally revealed the plans for the site back in February.
_____________
While you're here…
Producing your daily dose of West Leeds Dispatch comes at a cost!
There's the hosting of the website you're reading now, running our popular e-mail newsletter, membership of independent press regulator Impress, attending summer events, paying for equipment etc etc.
We need at least £200 a month just to break even – that's money currently coming out of the pockets of dedicated volunteers who are passionate about what's happening in our communities, connecting you with local groups and organisations as well as holding decision-makers to account and championing local issues.
And all that's BEFORE we even think about paying something for people's time – for instance, our editor puts in more than 24 hours a week in his 'spare' time to ensure The Dispatch publishes daily.
To put it bluntly, after nearly four years of daily publishing, we are not sustainable!
And we need YOUR help to continue …
For the cost of less than a couple of cups of coffee you can help support local community news and continue to give our communities a voice by taking out a subscription for just £4 per month (that's just a pound a week).
As a thanks you'll get your name on a roll of honour on our website. More importantly you will be enabling us to keep bringing you the news that matters about your neighbourhood.
Achieving a bedrock of supporters will give us a firm financial footing and help us plan for the future.
Supporting us couldn't be easier…
Just follow this link.
or set up a standing order with your bank:
Contact us on Paywestleedsdispatch@gmail.com if you'd like to do this.
Over to you …